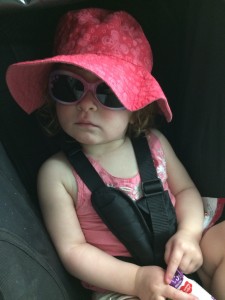 So we're just back from an Easter holiday to Lanzarote, which was lovely – great to spend time with the family and watch the kids play in the pool and park.
Obviously, though, with a family of tricky eaters there were going to be issues on the food front. The hotel specified it catered for "healthy and special diets" so we decided to go for the all-inclusive option instead of self-catering or room-only.

I emailed the hotel twice to flag up the fact three of us were coeliacs and I was lactose intolerant but there was no reply so I phoned them. There was obviously a language barrier to contend with. A lady said they had not received any emails so I sent it again.
Their reply was positive and they said they could cater for us no problem and could provide gluten-free bread, pizza and pasta. They also said they did not have a separate toaster. I was pleased they had noticed the cross-contamination dangers after I highlighted it in my email.
As usual, I packed nearly a whole suitcase of food, choosing flat things where possible (gf scotch pancakes, free-from sandwich thins and wafer biscuits, Kiddylicious fruit snacks). Cereal is always a problem so I packed enough for a week in case there wasn't anything for brekkie. I took small cartons of Koko milk, Violife cheese and a little tub of Vitalite for me. I also packed a few sneaky little things to spruce up meals, such as gf soya sauce, peanut butter and df mayonnaise. And I also packed my loyal toaster bags.
The second we arrived, we were ushered into lunch as our rooms weren't ready. I cautiously walked around the buffet. There were signs highlighting allergens, which was great – but cross-contamination was a major issue. Luckily, there was a huge tray of white rice that was not near anything that could contaminate it and also had its own spoon. There was also a grill where the fresh fish was cooked by a chef so I was sorted with a basic meal.
It was a little gutting when Megan (my eldest mini-coeliac) wandered around and asked about the chicken nuggets, chips, desserts and ice-cream – all of which contained gluten. I am not so bothered about myself but I really hate it when I have to watch my kids miss out.
I attempted to talk to a waitress about gluten-free bread but didn't get very far. The bar staff seemed to speak a little more English so I tried to ask them if the coke was gluten-free, but everything just came out one hose and there were no labels to be seen. Good job I knew the Spanish for "no gluten", "lactose free" and "coeliac" and I have quite a range of food vocab – I would have been in a lot of trouble if we hadn't eaten in Spain so many times.
The evening meal came around and the choice was extremely limited. There was rice again and we spotted a large bowl of olives (weirdly, my mini-coeliacs are both obsessed with olives) but there was very little else. There was one seafood dish that seemed to be safe-ish – no gluten or dairy on the label and far enough away from other trays – but the kids wouldn't try that, being normal and slightly fussy two and five-year-olds.
I decided to address the issue straight away and went to the reception, where they spoke the best English. I asked for gf pasta and a gf and df pizza for the following night. I also visited the supermarket and, hallelujah, Schar is in Lanzarote. I was ecstatic – not only could I get the kids gf cake, but also gf ice-cream sandwiches and little biscuits. Perfect.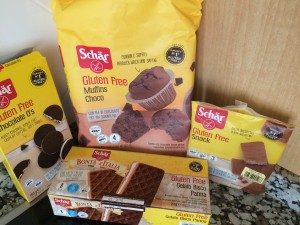 Unfortunately, their meals the following night came out at 8.30pm (when I requested 7pm) so, again, my kids had filled up on olives and rice. But when I brought out the gf chocolate muffins from my bag, their little faces lit up. (I don't feed my kids cake all the time, honest, but on holiday, it had to happen). I also bought some chorizo and bacon, which I cooked in the room to spruce up our meals. The soya sauce and mayo were godsends, too (although I had to hold the bottle to prevent Megan pouring half of it over one portion of rice).
It continued like that for most of the week – I spoke to the manager who led me to a chef, but there wasn't much change. Then, finally, on the last night, I just so happened to mention coeliac to one particular chef on the grill and she said: "We have gluten-free bread, pizza, pasta and cake – just ask." So I asked for some cake and she presented my mini-coeliacs with an enormous slice of chocolate cake. So, sadly, it seemed my messages had not been fed back to the right people. Typical.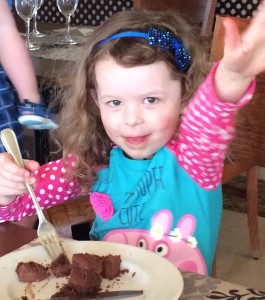 Oh well, at least it meant the only weight I put on was from copious glasses of gin and tonic.
We were talking as a family about if we would do all-inclusive again and I'm not sure. I think the stress of trying to sort out safe meals and not necessarily having the food we want outweighs the effort of cooking and clearing up on a self-catering break. I definitely made the most of the free G&Ts though… so maybe it's worth it just for the booze!
By Karen Woodford ("celíaco – sin gluten, sin lactosa")