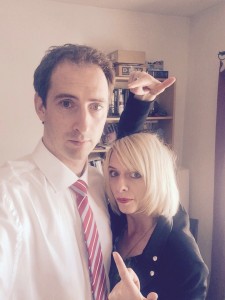 It's always fun to kick off the day with a massive fight. And I very nearly came to blows with my boyfriend this morning over something very serious indeed. Breakfast cereal.
It was 7.30am and, like millions of mums, I was feeding my son, helping him with homework, packing his bag, cleaning the floor, unloading the dishwasher, putting a wash on and trying to straighten my scarecrow hair. And in strolls the boyfriend, grabs a bowl and casually helps himself to MY GLUTEN-FREE CEREAL. Just loads his bowl up. Then sprinkles on a helping of Shreddies, adding insult to injury.
I did manage to bite my tongue, knowing I had 15 other things to fall out with him about first.
I knew I should not feel so cross. After all, he has had to pay over the odds for GF food for me for the best part of a decade. But it's my overpriced, bland cereal. Mine.
The question remains, though, how generous should us free-from people be with our food with these folk who can happily eat anything and everything?
My mother takes a hard line. She will bring a bag of coeliac treats when she comes on her monthly visits and lay down the law – "These are for YOU only, Kay!"
For guilt levels, it is nice to share biscuits and cakes, so you don't look at the empty packet and realise you demolished the lot.
I guess I just want to be asked first. So I can say no. Unless maybe they helped unload the dishwasher?
By Kay Harrison – a coeliac defending her free-from products with her life