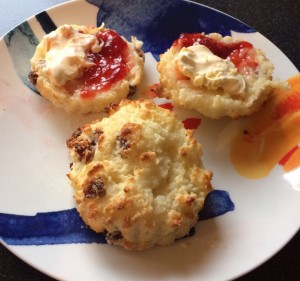 Craving foods you can't have is pretty standard when you get lumped on a free-from diet. As soon as I was told I had to be gluten free for life or risk a body breakdown, I wanted a macaroni pie, half a dozen Biscuit Boosts and a foaming pint of Guinness.
Cravings can be all-consuming, fly in the face of reason and leave you disgusted with yourself. Like the time I abandoned my vegetarian principles as a student in an explosion of pork and pickle pastry and shame. And I know people with gluten intolerances who have made themselves ill because they were craving a regular pizza – so scoffed a 12in Sloppy Joe.
I've resigned myself to what I can and can't eat now. My willpower has grown. I've learned to step away from the custard Krispy Kremes, no matter how much I want to bury my face in the display.
Only my cravings are back big style. In no small part down to the fact I'm pregnant.
With my first child, my cravings were pretty unextraordinary. Black olives. No problem. I'd exceed my weekly salt limit by 10am Monday, but no problem.
This time, though, I'm in trouble. Because there's only one thing on my mind. Scones. ALL the scones. I would eat cream teas for breakfast, lunch and tea. And I'm trying my hardest to do so.
I know there are good GF scones out there. Trouble is, getting hold of them. Recently, I was desperately scouring online while I had a nationwide crack squad at work (my parents and two sympathetic mates) out in shops, trying to locate some.
Sainsbury's, I hear, does cracking ones. But it has let me down… just when I need it most (pregnancy hormones… much?), and all my scone hunters could muster was a pack of hot cross buns. M&S scones I could get if I travelled 30 miles, but its scones are about as light and buttery as a warm cricket ball.
A local farmshop, Drewton's in East Yorkshire, has a delicious Lizzie's Bakes range, meaning I can raid its well-stocked free-from freezer to stock up mine. These scones are perfection after a few minutes warmed in the oven, slathered with clotted cream and a splodge of strawberry jam (the Devon way for me – cream first – sorry, Cornwall). Embarrassingly, I cried real tears when the lady at the shop told me they had run out and it would be WEEKS before the next delivery. I felt like a four-year-old denied pudding.
It got to the stage where I had to take drastic action. I had to bake. And I am no friend of the kitchen. I found a recipe online that seemed idiot proof, featuring GF flour and buttermilk, and managed to whip up 20 scones that looked the business. They were not going to win any star baker awards, they were claggy and I was ashamed to share them or show them in public, but they helped with the cravings. A sort of cakey methadone.
Strangely enough, my BFFFF (see this link), fellow coeliac Karen Woodford, also craved GF scones when she had a bun in the oven… and served up a baby girl a few months later. Who has turned out to be coeliac. Will I be in the same boat, I wonder?
By Kay Harrison – pregnant coeliac (please feed gf scones or keep your distance)