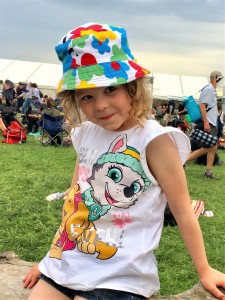 I wrote a blog when my eldest daughter, Megan, first started school (http://safereating.co.uk/lessons-in-gluten-free-school-dinners-will-my-mini-coeliacs-new-school-pass-the-test/). She has coeliac disease so I was really worried about whether they could cater for her safely.
We were lucky as the school is really clued up on dietary requirements and even has a dietitian, who goes through the menus. They also have excellent procedures in place, including having Megan's picture up where they serve the food, with a note stating exactly what she can't have. She also has a wristband to highlight to the people serving that she has a dietary requirement.
When she first started, there was no kitchen up and running as they had been doing a lot of building work. They still managed to provide her with a variety of cold sandwiches and always gave her a pudding, too, which was great. Since they have been dishing up hot food again, it sounds like she gets a whole range of meals and they just adapt what the others are having. They still give her a choice each day, too.
Now, I have to rely on feedback from a five-year-old, which I have to say is not very reliable! The most I get out of her about school is, "I can't remember" or "we went outside". But she says she has things like curries, roasts, pasta and fish pie so it sounds really varied. I think she has to go without Yorkshire puddings and things like that, but she has not complained once, which is a relief.
Of course, human error still exists, even with all of these procedures in place. One day, the cook rang me and apologised profusely, saying Megan had eaten some normal bread by mistake. I could hear the distress in her voice and she asked what she could do. I said there wasn't anything we could do at this stage, but just to make sure she was not in too much pain. She was a little more tired and grouchy than normal afterwards and had a few pains, but luckily wasn't too bad.
I think there was somebody new and the breads had got mixed up that day. This just demonstrates the need for training around dietary requirements as soon as anybody starts working with or serving food. Staff need to make sure they fully understand the issues involved and stick to a process. If it was a child with a severe wheat allergy, that could have led to a really bad reaction.
There are of course, the obligatory 'hand out sweets' sessions when other children in the class have been on holiday or it is their birthday – this often leads to Megan not being able to eat the treats or not knowing if she can or not. I usually just swap them for 'safe' sweets whenever this happens, but she is pretty good at dealing with situations like that now.
There have also been a few occasions where Megan decorated biscuits and made cakes in lessons and then could not eat them. That upset me a bit as I told the teacher I would bring things in if they were doing things like that. It seems pretty harsh to let a child decorate something, then watch their friends eat theirs and not be able to eat their own. That has definitely improved over the year though and I have taken a few things in.
The class were learning about pirates recently, and overnight there was a special visit from "pirates" and treasure and treats left for the school children. They even left Megan some special Haribos as the other treats contained gluten. Whenever there are treats for any other reason, the teachers and teaching assistants make sure Megan has something, too, which is kind. One little boy decided to buy the whole class lollies after his initial idea of chocolates (that contain gluten) so Megan could have the same as everyone else. That was really lovely.
So, overall, I am really happy and think we have had it pretty easy. I would love to hear about other parents' experiences, though.
By Karen Woodford – coeliac mother of 2 gluten-free girls