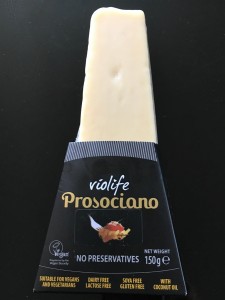 It doesn't have to be hard cheese when you are vegan or go dairy or lactose free. The free-from market has picked up recently and there's a ton of cheesy offerings out there. Here is Karen Woodford's pick of the best goodies…
DAIRY-FREE AND VEGAN CHEESES
Sainsbury's Wensleydale Cheese with Cranberries, £2.25
This looks the part – exactly like Wensleydale. I even put it on a cheeseboard the first time I had it because I was so excited. It deserved it! It crumbles in the same way as proper Wensleydale and tastes really good. It is strange as I was never a fan of this kind of cheese in the past but it definitely tastes very similar and is lovely on a gf cracker. It costs £2.25 so comes in at a decent price. Not quite as versatile as some others but it is perfect for the job it has been put on this earth to do.
Mozzarisella Classic, £3.99
I have tried this vegan cheese a few times at Allergy & Free From shows. I remember it being gorgeous on a Venice Bakery pizza base – it looked and tasted very nearly like the real thing and melted perfectly. I was going to buy some to refresh my memory but, unfortunately, it is difficult to get hold of. It costs £3.99, which is not a bad price, but the postage at the online shop that stocks it is more than the item itself. Groan. Grab it if you can (and get some for me, too).
Violife Original, £2.30
This is a block cheese and it looks like Cheddar. There is no horrible smell AND no horrible aftertaste. Coconut oil is the key ingredient and it is soya-free – what a difference that makes. Melted in an omelette or hard in a ham sandwich, it almost cons you that it is real cheese. It is the best I have found in supermarkets to grace the top of pizzas. It does not completely melt the normal way but it is very good. I have also heard it is fab in lasagne… and all Violife cheese has the vegan stamp of approval. Well done, Violife, you have won my dairy-free cheese vote. £2.30 in Tesco.
Violife Original Slices, £2.50
Again, these are the best I have found – superb in a free-from burger! It is the same 'pretend' cheese as above, just pre-sliced. £2.50 in Tesco.
Violife Prosociano, £3.50
This is like pretend parmesan and just like its sister products, it looks the part. And the packaging is excellent too. It even smells like parmesan does and grates like it. And you can feel like a normal person, accepting some grated 'pretend' parmesan on your free-from pasta. Bravo! £3.50 at Tesco.
Violife Creamy Original, £2.50
This is pretend soft cheese – it's a harder texture than a normal one, but tastes good. Violife also has a range of flavoured pretend soft cheeses that I have not had the pleasure of trying yet (tomato and basil, hot peppers, herbs, cucumber and dill). It worked well in a df cheesecake recipe. £2.50 at Tesco.
Tesco Free-From Grated Mozzarella
This looked like heaven and I was dreaming of a beautiful pizza. But as soon as I opened the packet, I realised this was not to be the case and I'm not even sure why I put it on my base. It ruined it. It is partially made from coconut oil, but I think the soya must have taken over. It's not quite as offensive as some other soya cheeses I have had – I opened one before and had to throw it away as the smell was so awful. To give it its due, it melted and looked the part, but it did make the pizza rather soggy and just had a really strange aftertaste which made me feel quite nauseous. I did manage to eat it, though, which is a step up from any other soya cheese alternative I have had. Anyone else like it?
LACTOSE-FREE CHEESES
Lactofree Mild Cheddar, £1.80
Lactofree is a brilliant brand and I think all its products taste the business. The mild Cheddar reminds me slightly of plastic school cheese… but I used to love that. It works really well in sandwiches or on crackers or just to eat as is. It is a great price at £1.80 at Tesco. This is not suitable for milk allergy sufferers.
Lactofree Mature Cheddar, £1.80
This is just divine – exactly like the real thing in its crumbly, strong-tasting way. Perfect for cheese on toast or grating on to pizzas. Still, I am so, so sad that I now need to be dairy free. How is that fair on top of being gluten free? Sob. £1.80 at Asda.
Lactofree Soft White Cheese, £1
You seriously cannot tell the difference between this and normal soft cheese. It has a beautiful and creamy flavour and is really good on crackers. It makes a great cheesecake ingredient and is really cheap – only £1 at Asda.
By Karen Woodford, always on the hunt for excellent dairy-free products