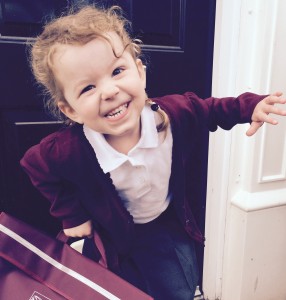 My biggest mini-coeliac started school last week. A whopping 2.5 hours a day for eight days to start off with. Rather easy to work around… not. (Ooohhh that is so 90s of me, reminding me of when I was at school myself.)
Four-year-old Megan has literally changed overnight. On her first day, an older pupil showed her how to hang upside down on a climbing frame…  a little difficult to watch when you have worked on neurosurgery. The next day, she told me she would rather go on a play date alone – rather than with me. Next stop… buying her own flat?
I was aware that all children are entitled to a free school meal for the first year, but it is actually for the first three years. I thought I was going to have a major battle on my hands with school catering so I was bracing myself and ready to offer them free Safer Eating training to look after my little girl. The dietitian had also kindly offered me numbers to contact to ensure they catered for my daughter.
I went along to the induction evening for parents and the cook spoke there. I was happy to hear they cook all the meals in-house. She asked parents of children with dietary requirements to go and see her. I went up and was very pleasantly surprised – she was obviously very clued up about gluten and coeliac disease. She asked if I would be happy for them to put a photo of Megan up in the kitchen stating her requirements clearly: no gluten or oats.
Megan will also wear a white wristband to show the catering team she is on a special diet. The cook showed me the menu folder and said that a dietitian goes through each thing that is served and works out what is safe for each child. She also invited me to pop in before the start of term and I took Megan with me. She was lovely and explained the menu more thoroughly. She is also fully aware of how careful they have to be in the kitchen and when serving gluten-free food.
Given all the above, I have high hopes that they will do a super job when Megan finally starts doing her full days at school. I am also a little relieved that I don't have to take in loads of GF food, like I do at nursery.
Her first school dinner will be next Monday. So watch this space and hopefully I'll have some positive feedback in a couple of weeks.
By Karen Woodford – an abandoned mother of two mini-coeliacs