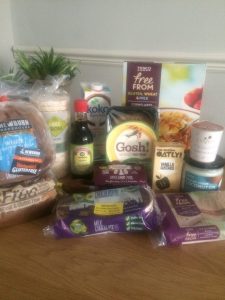 The magic of visualisation worked, I won the £20 Tesco gift card in the Safer Eating competition.
What better way to beat the January blues, than to spend my winnings on a free-from food stash. Part of my task was also to see just how much I could get for £20. I only went over a little bit.
WARBURTONS LOAF (Reduced price of £1.53)

B FREE BROWN SEEDED LOAF (Reduced price of 94p) I snapped up these half loaves that were at a reduced price, as you can freeze them and then just take the slices out when you need them. Perfect for smashed avocado on toast in an emergency.

KIKKOMAN SOY SAUCE (£2.60) Another everyday store-cupboard staple. I don't reserve this simply for stir-fries, it's also great on mushrooms, chickpeas, potatoes or Brussels sprouts.

KOKO COCONUT MILK (£1.40) 1 cup Koko milk, 1 tsp turmeric, 1 tsp honey, ½ tsp ginger and a pinch of black pepper makes a delicious golden milk.

NATURE'S STORE MILK CHOC RICE CAKES (Reduced price of 38p) Couldn't pass up on these at 38p – bargain!

THE COCONUT COLLABORATIVE CHOC POTS (£2) The richest, smoothest, silkiest chocolate – and all without the scary dairy.

GOSH! MOROCCAN SPICED CHICKPEA BAKES (£2.50) These are really tasty chickpea burgers with red pepper and Moroccan spices. They're gluten and dairy free and handy to have in the freezer so you can bung them in the oven when time is short. To be honest, I don't rate the rest of their line of products (I find them all very tasteless), but these are the exception to the rule.

CORN FLAKES (£1.43) A move away from my daily routine of morning oats…  thought I would give these a try as a lighter breakfast for when we move into the warmer, springtime weather (I can't wait).
OATLY CUSTARD (£1.20) When I cut out dairy, I REALLY missed custard. On discovering this, my heart skipped a beat. It's thick, yellow and vanilla-tasting – just like custard should be.

COYO CHOC YOGHURT (£2) Coyo yoghurts aren't the texture of your regular yoghurt, they are much thicker and almost like a soft cream type of consistency – but oh so coconutty, they are divine.

COCONUT OIL (£3) Pretty sure I'm going to turn into a coconut, but it really seems to agree with me inside and out. I use it for cooking, hair masks and dry skin salve.

SANDWICH THINS (£1.80) I made these (awesome) mini pizzas with them.

TOTAL: £20.78

By Jemma Woolley – our lucky guest blogger who has multiple allergies