Chicken and chickpea curry (gluten free)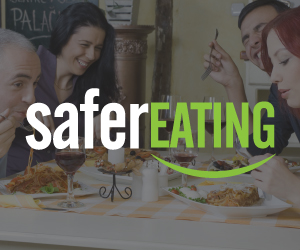 Free from:
Gluten, milk/lactose, mustard, celery, nuts, lupin, egg, fish, crustacean, mollusc, sesame, soya
Alternatives:
Replace the chicken with tofu (contains soya) for a vegan option or Quorn chicken pieces (contain egg) for a vegetarian option
---
Ingredients
1 onion - chopped
3-4 cloves of garlic
2 tbsp fresh ginger - chopped
½ tsp ground turmeric
2 tsp paprika
2 tbsp curry powder - check for allergens
5 chicken breasts - chopped into bite-sized pieces
¼ - 1 large red chilli - chopped
30g fresh coriander
1 chicken stock cube, e.g. Kallo - check for celery
1 pint boiling water
1 can (400g) chickpeas - drained and rinsed
Optional: Salt to taste - approximately 1 tsp works well
2 tsp cornflour
---
Method
1. Add the vegetables, ginger, chilli, salt and half the coriander to a food processor and blend until smooth. Alternatively, pound in a pestle and mortar
2. Cook in a large saucepan for about 10 minutes over a low heat. Stir continuously
3. Crumble in the stock cube and add the curry powder. Stir
4. Add the water. Stir until the stock cube is fully dissolved
5. Bring to the boil
6. Add the chicken. Stir
7. Reduce the heat. Simmer until the chicken is cooked through (for approximately 15 minutes)
8. Chop the remaining coriander
9. Add the chickpeas and coriander (keeping a little aside for decoration). Stir
10. Mix the cornflour in a cup with a little water until smooth. Add to the curry. Stir
11. Continue to cook for a further 5 minutes
12. Decorate with the remaining coriander to serve
Serving suggestion: Serve with poppadoms (check for gluten) and rice. Free-from naan bread also goes extremely well with this dish.
---
The Safer Eating Company cannot take responsibility for any recipes that are uploaded that are not accurate. We will check them as often as possible, but please refer to our problem food lists and ALWAYS CHECK THE LABELS of every ingredient.
---