Chicken noodle soup (gluten and dairy free)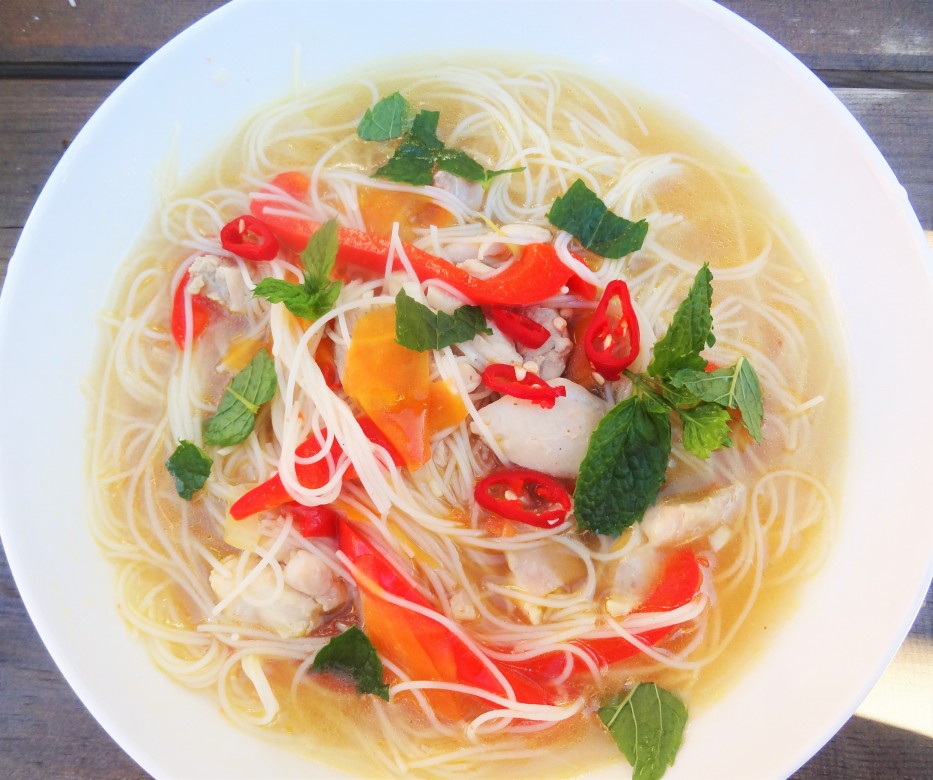 Free from:
gluten, lactose/milk, egg, mustard, sesame, lupin, nuts, sulphites, molluscs, crustaceans, celery, soya, fish
Contains:
meat (chicken), check stock cubes for celery
Alternatives:
Substitute chicken stock with vegetable stock and omit the chicken for a veggie option.
Serves:
4-5 as a starter (or 3 as a main meal)
---
Ingredients
1300ml chicken stock (homemade or made with 1 stock cube, e.g. Kallo)
1/2 red pepper (sliced thinly)
1 small carrot (peeled)
2 spring onions (shredded)
3 chicken thighs (flesh chopped)
1/2 tsp ground ginger (or 1 inch of peeled fresh ginger)
2 cloves of garlic (peeled and chopped)
Optional: salt and pepper
Optional: chilli flakes or freshly chopped chilli
100g rice noodles
Handful of fresh herbs (mint or basil work well)
---
Method
1. Remove the skin (if you need to) and chop the meat off the chicken thighs
2. Prepare the vegetables. Pull off  pieces of the spring onion to shred it, use a potato peeler to make thin slices of carrot and grate the ginger (if it is fresh)
3. Make up the stock if you need to and pour it into a large saucepan
4. Add the garlic, ginger, pepper and chicken. Bring to the boil
5. Simmer for 10-15 minutes (until the chicken is fully cooked)
6. Add the carrot and spring onion (leaving a little for decoration)
7. Add salt, pepper and chilli to taste
8. Add the rice noodles to the soup for the length of time it states on the packet (usually a few minutes)
9. Add the fresh herbs, saving a little for decoration. Stir well
10. Sprinkle the remaining herbs, spring onion and a few slices of chilli (if you wish) on the top for decoration
Serving suggestion: Serve as a starter or alongside a spicy Thai salad for a main meal.
---
The Safer Eating Company cannot take responsibility for any recipes that are uploaded that are not accurate. We will check them as often as possible, but please refer to our problem food lists and ALWAYS CHECK THE LABELS of every ingredient.
---