Chilli con carne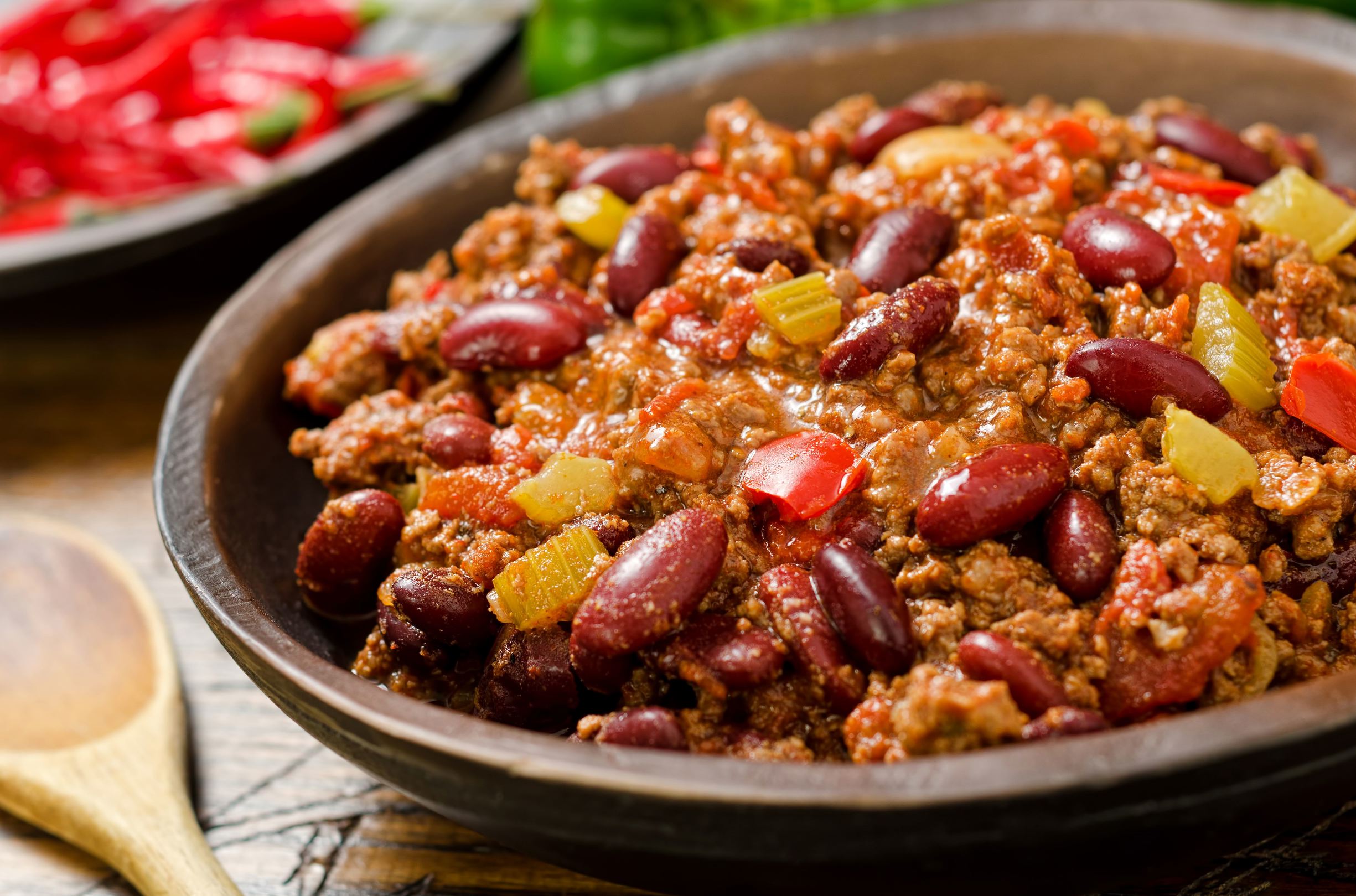 Free from:
gluten, dairy/lactose, nuts, sulphites, mustard, sesame, fish, seafood, lupin, soya, egg
Alternatives:
substitute the beef mince for a vegetarian option (e.g Quorn mince which contains gluten and egg) and the stock cube can be omitted or a vegetable one used
Cooking time:
50 minutes + 10 minutes standing
---
Ingredients
1 tablespoon oil
1 onion
2 Cloves garlic
1 red pepper
1 stick celery
½ teaspoon hot chilli powder (for mild chilli), 1 teaspoon hot chilli powder for stronger chilli or tablespoon mild chilli powder
1 teaspoon ground cumin
1 teaspoon paprika
500g beef mince
½ teaspoon marjoram
400g chopped tomatos
1 teaspoon sugar
1 beef stock cube
2 tablespoons tomato puree
410g red kidney beans
Salt & pepper
Boiled rice
---
Method
1. Chop the onion, garlic, red pepper and celery
2. Heat the oil in a large saucepan on a medium heat
3. Add the onion and cook until soft
4. Add the garlic, red pepper, chilli, cumin and paprika and stir well
5. Cook for 5 minutes stirring occasionally
6. Brown the mince in a frying pan and drain if necessary
7. Add the mince to the saucepan and turn up the heat.
8. Add the marjoram, tomatoes, sugar, stock cube, tomato puree and season to taste. Stir well
9. Simmer the chilli gently for 5 minutes
10. Bring to the boil stirring continuously
11. Turn down the heat and simmer for 20 minutes. Check occasionally and stir. Add water if it becomes too dry
12. Drain and wash the kidney beans in a sieve
13. Add the kidney beans and bring to the boil stirring
14. Reduce the heat again and simmer without a lid for 10 minutes
15. Leave the chilli to stand for 10 minutes before serving
Serving suggestion: Serve with tacos and rice. Add cheese (contains lactose/milk), guacamole (may contain milk and nuts), sour cream (contains milk/lactose) and cheese (contains milk/lactose) if you wish
---
The Safer Eating Company cannot take responsibility for any recipes that are uploaded that are not accurate. We will check them as often as possible, but please refer to our problem food lists and ALWAYS CHECK THE LABELS of every ingredient.
---