Creamy avocado and spinach spaghetti (gluten and dairy free)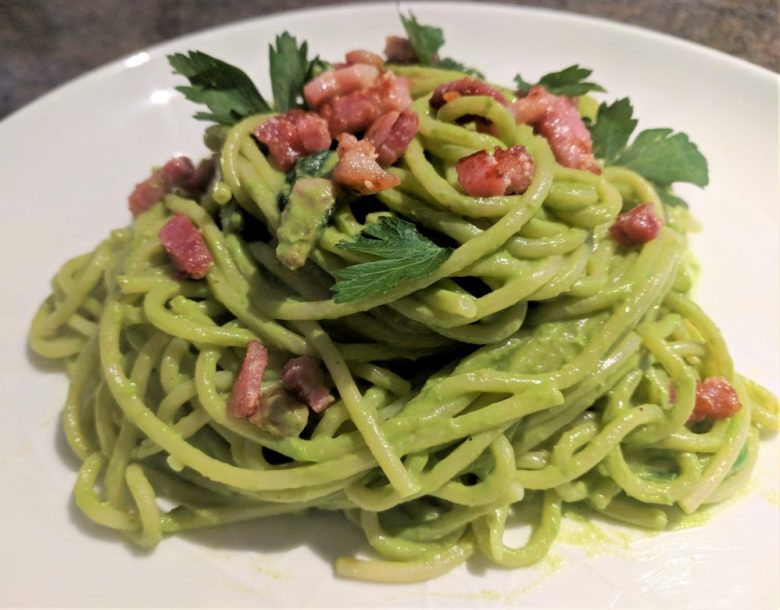 Free from:
Gluten, milk/lactose, nut, sesame, egg, soya, lupin, sulphites, fish, crustaceans, mustard, celery, molluscs
Alternatives:
Omit the bacon for a vegan option
---
Ingredients
1 large avocado (peeled and stone removed)
1 garlic clove
150g raw spinach
200g bacon lardons (smoked or normal)
400g gluten-free spaghetti
Small handful fresh parsley
1½ tbsp lemon juice
3 tbsp olive oil
50ml water
Salt and pepper to taste
---
Method
1. Place the spaghetti in a large saucepan of boiling water. Cook as instructed on the packet, adding salt if you wish. Gluten-free pasta sometimes requires a little longer for it to become properly tender
2. Add the avocado, garlic, olive oil, lemon juice, parsley, water, seasoning and a small handful of the spinach (keeping the rest aside for later) to a blender. Blend until the sauce is smooth, creamy and thick
3. Heat a frying pan (add a little oil if it is not a non-stick pan) over a medium heat. Fry the bacon lardons until slightly crispy. Add the remaining spinach until it wilts
4. When the pasta is cooked, mix in the bacon, spinach and avocado sauce. Stir well
5. Decorate with fresh parsley and serve immediately
Serving suggestion: This dish tastes delicious with grated parmesan (if you can have milk) or vegan cheese (e.g. Violife Prosociano) sprinkled on top.
---
The Safer Eating Company cannot take responsibility for any recipes that are uploaded that are not accurate. We will check them as often as possible, but please refer to our problem food lists and ALWAYS CHECK THE LABELS of every ingredient.

Huge thanks to Holly Mason for the recipe.
---