Free-from chorizo and vegetable noodles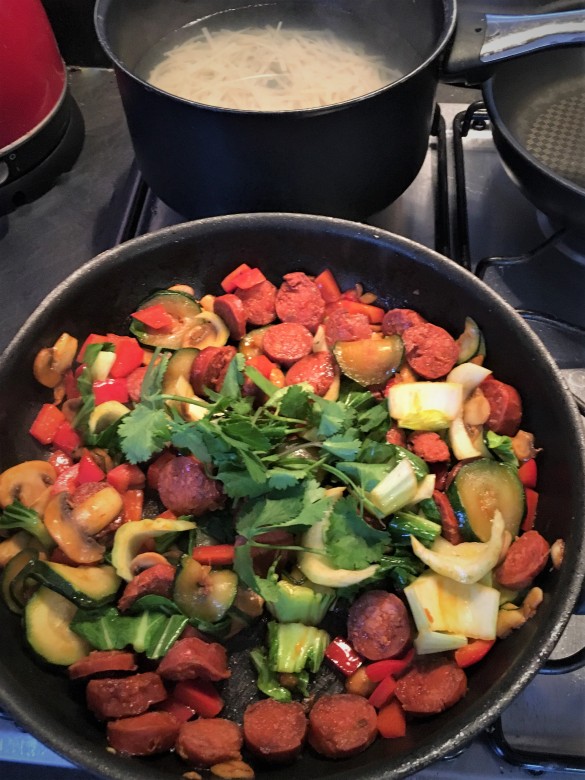 Free from:
Gluten, milk/lactose, nut, sulphites, fish, molluscs, crustaceans, lupin, sesame, celery, mustard, egg, sesame
Alternatives:
For a soya-free version, omit the soya sauce
---
Ingredients
200g rice noodles (check for gluten)
1 tsp olive oil or a few sprays of spray oil
1 clove of garlic (chopped)
Optional: 1 chilli (sliced)
1 chorizo - e.g. Tesco finest Spanish chorizo ring (check for gluten and milk)
5 mushrooms (sliced)
½ - 1 courgette (sliced thinly)
1 red pepper
2 tbsp gluten-free soya sauce - e.g. Kikkoman gluten-free soy sauce
1 pak choi (sliced)
2 slices serrano ham
A small bunch of coriander
---
Method
1. Boil the kettle
2. Add the oil/spray oil to a large frying pan. Put on a medium-high heat
3. Put the rice noodles in a large pan and cover with boiling water. Follow the instructions on the packet – the noodles used in the picture needed to be soaked for 10 minutes in boiled water
4. Prepare the vegetables. Peel and slice the chorizo thinly
5. Stir-fry the garlic and chilli (if you are using it) for a few minutes
6. Add the chorizo. Fry for approximately 5 minutes until slightly browned
7. Add the mushrooms, red pepper and courgette. Stir-fry for approximately 5  minutes
8. Add the soya sauce. Stir well
9. Add the pak choi and serrano ham. Stir-fry for 2 minutes
10. Drain the rice noodles. Add them to the frying pan. Mix together well
11. Add the coriander (saving a little for decoration). Stir and remove from heat. Serve
Serving suggestion: This is good all by itself, but add extra sliced chilli if you like spicy dishes. It goes really well with a fresh salad too.
---
The Safer Eating Company cannot take responsibility for any recipes that are uploaded that are not accurate. We will check them as often as possible, but please refer to our problem food lists and ALWAYS CHECK THE LABELS of every ingredient.
---