Free-from pizza wraps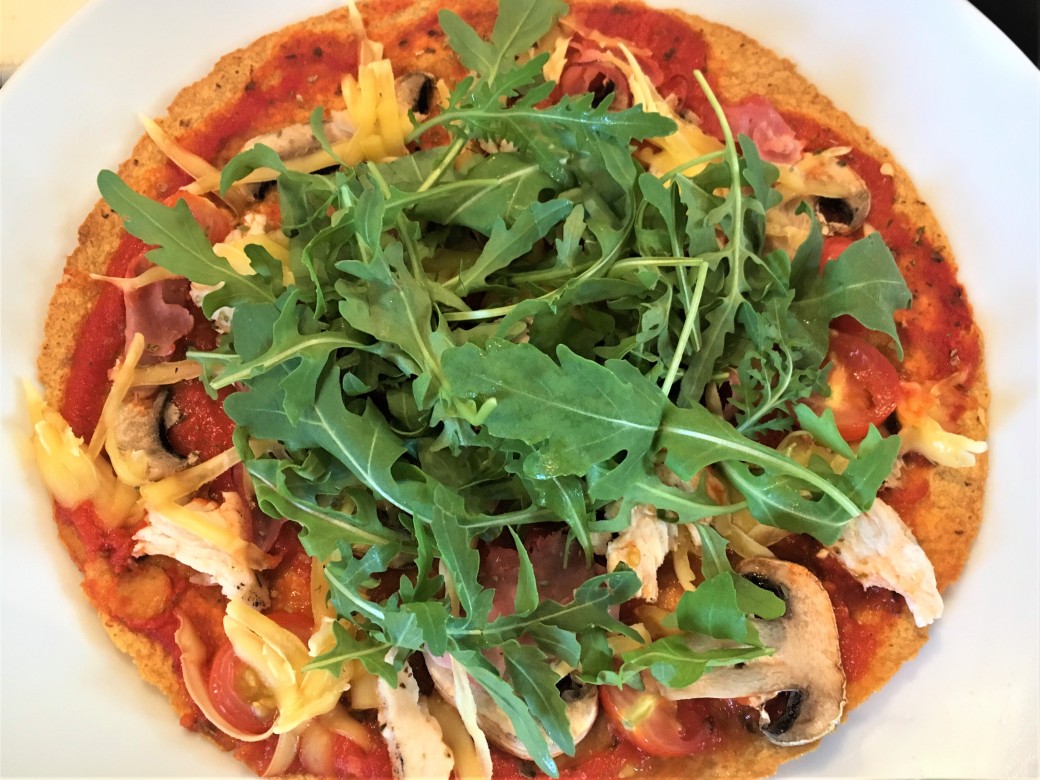 Free from:
Gluten, milk/lactose, soya, sesame, fish, crustaceans, molluscs, egg, lupin, nut, mustard, celery, sulphites
Contains:
Meat, (coconut - classed as a nut in the USA)
Alternatives:
For a vegan option - omit the meat and replace with sun-dried tomatoes and olives (or alternative vegetables)
Preparation time:
5 minutes (or 15 minutes if preparing the tomato sauce too)
Cooking time:
10-15 minutes (or 25-30 minutes if cooking the tomato sauce too)
---
Ingredients
1 free-from wrap (e.g. Bfree sweet potato gluten-free wraps)
2 tbsp tomato sauce (the link for our tomato sauce is in method)
1 mushroom - thinly sliced
2 cherry tomatoes - thinly sliced
1 tbsp red pepper - chopped
½ - 1 slice of cooked ham - shredded/chopped
½ - 1 slice of cooked chicken - shredded/chopped
2 slices of jalapeno (or more if you like it spicy)
20-30g grated dairy-free cheese (e.g. Violife)
½ tsp dried oregano
Handful of rocket
---
Method
1. Preheat the oven to 185°C. Make the tomato sauce if you need to
2. Place the wrap on a baking tray
3. Spoon the tomato sauce onto the wrap. Spread it evenly
4. Add the mushroom, pepper, cherry tomatoes, meat and jalapenos
5. Sprinkle on the cheese and oregano
6. Cook in the oven for 10-15 minutes (or until the toppings are cooked/heated through and the wrap is slightly crispy)
7. Top with rocket and serve
Serving suggestion: Cut the pizza into little slices and serve with salad, dairy-free mayonnaise and if you're very hungry, some of our amazing garlic bread. Alternatively, fold it in half to make a calzone-type pizza.
---
The Safer Eating Company cannot take responsibility for any recipes that are uploaded that are not accurate. We will check them as often as possible, but please refer to our problem food lists and ALWAYS CHECK THE LABELS of every ingredient.
---