Free-from Vietnamese prawn pancakes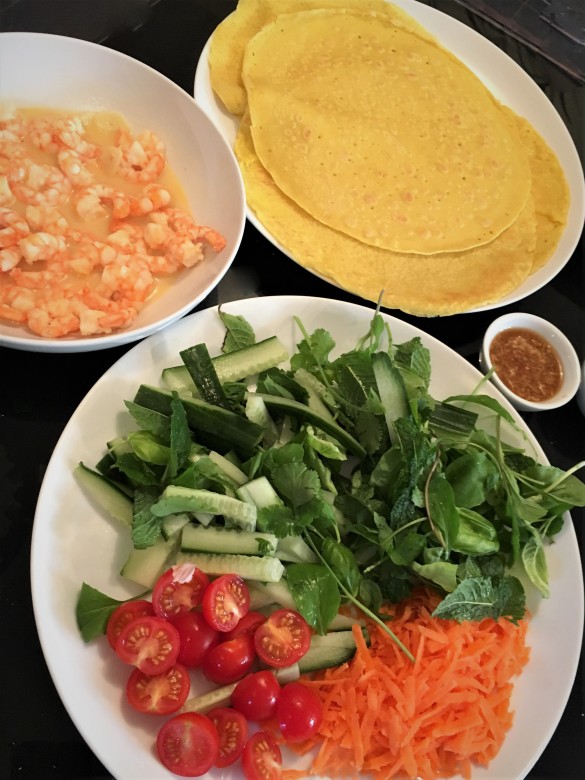 Free from:
Gluten, milk/lactose, nut, sesame, celery, mustard, fish, molluscs, meat, lupin, sulphites. VEGETARIAN
Contains:
Crustaceans (prawns), soya, egg
Alternatives:
Omit the soya sauce for a soya-free dipping sauce. Omit the prawns for a vegetarian option or substitute with fish/meat
---
Ingredients
DIPPING SAUCE
Juice of 1-2 limes (approximately 2 tbsp)
6 cm piece of root ginger (peeled and grated finely)
2 cloves of garlic (peeled and crushed)
1½ tsp sugar (brown works well)
1 tbsp gluten-free soya sauce (e.g. Kikkoman Tamari Gluten Free Soy Sauce)
1 tbsp rice wine vinegar
Salt to taste
1 bird eye chilli (sliced thinly)
FILLING
1 cucumber - cut into thin matchsticks
3 spring onions - sliced thinly lengthways
1 carrot - peeled and grated
3 tomatoes - chopped into small pieces
1 handful of fresh basil
1 handful of fresh coriander
1 handful of fresh mint
2 cloves of garlic (peeled and crushed)
250-300g king prawns (raw or cooked)
1 tbsp dairy-free spread, e.g. Vitalite (or you can use spray oil for a healthier version)
PANCAKES
150g gluten-free plain flour (e.g. Dove's Farm)
Optional: Pinch of salt
½ tsp turmeric
2 eggs
1 tin of coconut milk (reduced fat works well too)
Approximately 2 tbsp oil
---
Method
DIPPING SAUCE
1. Squeeze the lime and pour the juice through a sieve to remove any pips/pith
2. Add the other ingredients
3. Stir well
4. Pour into dipping sauce dishes (if you have them)
FILLING
1. Prepare all of the vegetables and herbs. Put in a large bowl to serve. Set aside
2. Heat the dairy-free spread in a frying pan over a medium heat
3. Add the garlic. Stir-fry for 1-2 minutes
4. Add the prawns. Stir-fry for a further minute or so (for cooked prawns) or approximately 5 minutes (for raw prawns)
PANCAKES
1. Sift the flour and salt into a large bowl
2. Make a well in the centre with a spoon and break the eggs into it
3. Whisk the mixture (by hand or with an electric whisk)
4. Gradually add the coconut milk to the mixture whilst continuously whisking to produce a thin, smooth batter
6. Put a non-stick frying pan over a hot heat and add a knob of spread/2 teaspoons oil
7. Turn the heat down to a medium heat and add approximately 1 ladle of batter
8. When you have poured in the batter, move the pan from side to side to ensure the mixture spreads out
9. The edges of the pancake will start to look cooked and golden when ready (1-2 minutes) so at this point either turn it over with a spatula or if you are brave – flip it
10. Cook for a further 30 seconds or so and remove from the pan. Repeat with the rest of the mixture, aiming for 4-6 pancakes
Serving suggestion: Serve the pancakes ready filled or let people help themselves. Give everyone a little dish of dipping sauce, they will be very appreciative.
---
The Safer Eating Company cannot take responsibility for any recipes that are uploaded that are not accurate. We will check them as often as possible, but please refer to our problem food lists and ALWAYS CHECK THE LABELS of every ingredient.
---