Gluten-free tomato garlic bread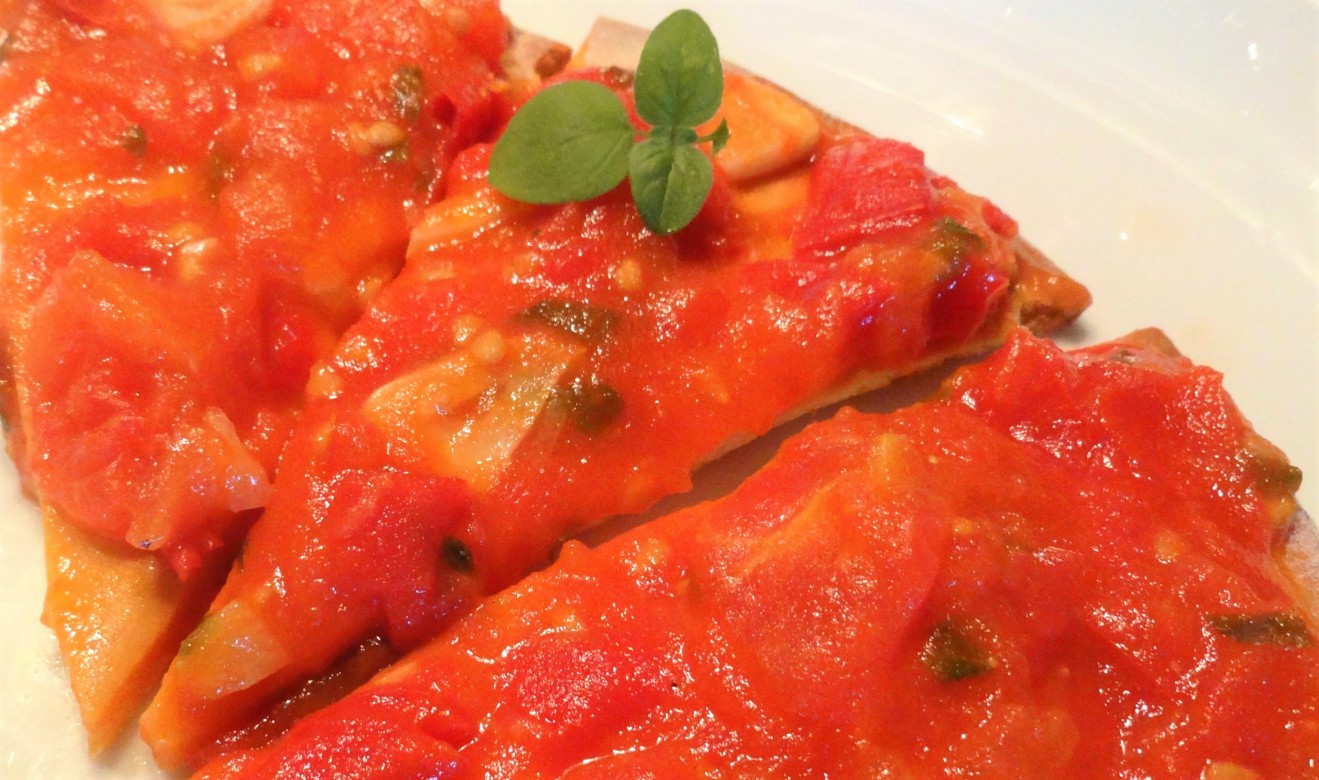 Free from:
gluten, lactose/milk, egg, soya, nuts, sulphites, celery, mustard, meat, fish, crustaceans, molluscs, sesame, lupin
Contains:
Check shop-bought gluten-free pizza bases for egg, soya and milk.
---
Ingredients
1 free-from pizza base (check for milk, egg, gluten and soya)
3 tomatoes (chopped into bite-sized pieces)
2 cloves of garlic (peeled and sliced)
1/4 lemon (rind and juice)
1 tsp sugar (brown or white)
Large pinch of salt
1 tbsp olive oil
Handful of fresh oregano or basil (dried herbs work just as well)
---
Method
1. Preheat the oven to 180°C
2. Put the tomatoes, garlic and sugar into a saucepan. Grate the lemon rind directly into the pan
3. Cover and cook over a low heat for 5 minutes. Stir occasionally
4. Put the pizza base in the oven and bake as instructed on the package (usually about 10 minutes). If you have made a fresh pizza base – bake in the oven until cooked right through
5. Add the lemon juice, salt and olive oil. Stir well. Cook uncovered for a further 5-10 minutes (until the sauce thickens and reduces so that it is not watery)
6. Remove the pizza base when it is ready
7. Add the herbs to the tomato sauce. Stir. Remove from the heat. It is lovely as it is, but blend if you like the tomato sauce smooth
8. Spoon the tomato sauce onto the pizza base. Spread evenly and right to the edges. Slice
After lots of searching, I have finally found a fab fresh pizza base by Minimalist Baker. It works really well with Dove's Farm plain gluten-free flour (instead of the mix). Also, make sure the baking powder and yeast are gluten-free.
Serving suggestion: Serve as a starter or as a side with pasta or pizza dishes.
---
The Safer Eating Company cannot take responsibility for any recipes that are uploaded that are not accurate. We will check them as often as possible, but please refer to our problem food lists and ALWAYS CHECK THE LABELS of every ingredient.
---