Onion and goat's cheese tart (gluten free)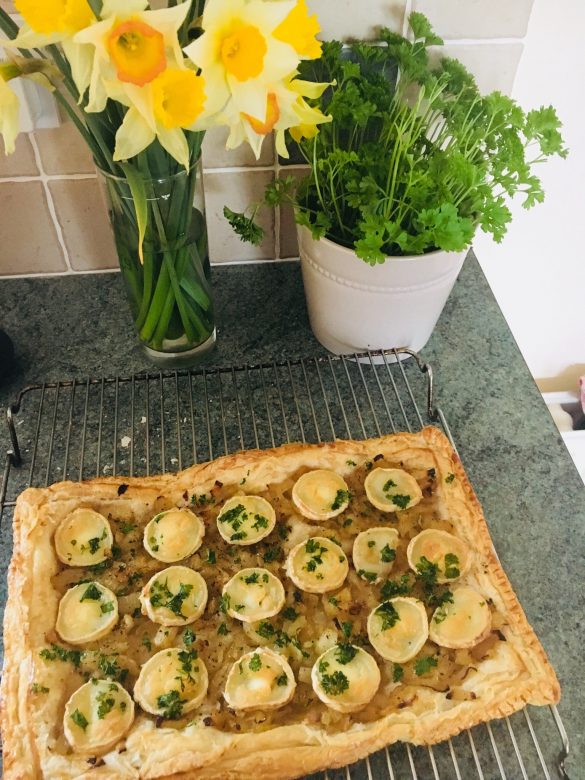 Free from:
Gluten, nut, sesame, egg, soya, lupin, sulphites, fish, crustaceans, mustard, celery, molluscs, meat. VEGETARIAN
Alternatives:
Use dairy-free cheese and spread to make this a milk-free and vegan dish.
---
Ingredients
1 pack of gluten-free ready to roll puff pastry, e.g. Jus Rol chilled gluten free puff pastry
4 onions (finely sliced)
50g butter or dairy-free spread (e.g. Vitalite)
1 log of goat's cheese or alternative (sliced)
Handful of fresh parsley (chopped)
---
Method
1. Preheat the oven to 200°C
2. Bake the pastry for 10 minutes
3. Caramelise the onion in the butter/spread in a frying pan, over a low to medium heat for 10-15 minutes. Stir regularly
4. When the pastry has cooked for 10 minutes, remove from the oven. Top with the caramelised onion and sliced goats cheese (or cheese substitute). Sprinkle parsley on the top
5. Bake as per the instructions on the pastry packet – this is usually for around 25-30 minutes until the pastry is cooked through and the cheese melted
Serving suggestion: This works well accompanied by the roast potatoes and vegetables.
---
The Safer Eating Company cannot take responsibility for any recipes that are uploaded that are not accurate. We will check them as often as possible, but please refer to our problem food lists and ALWAYS CHECK THE LABELS of every ingredient.
---