Pineapple rice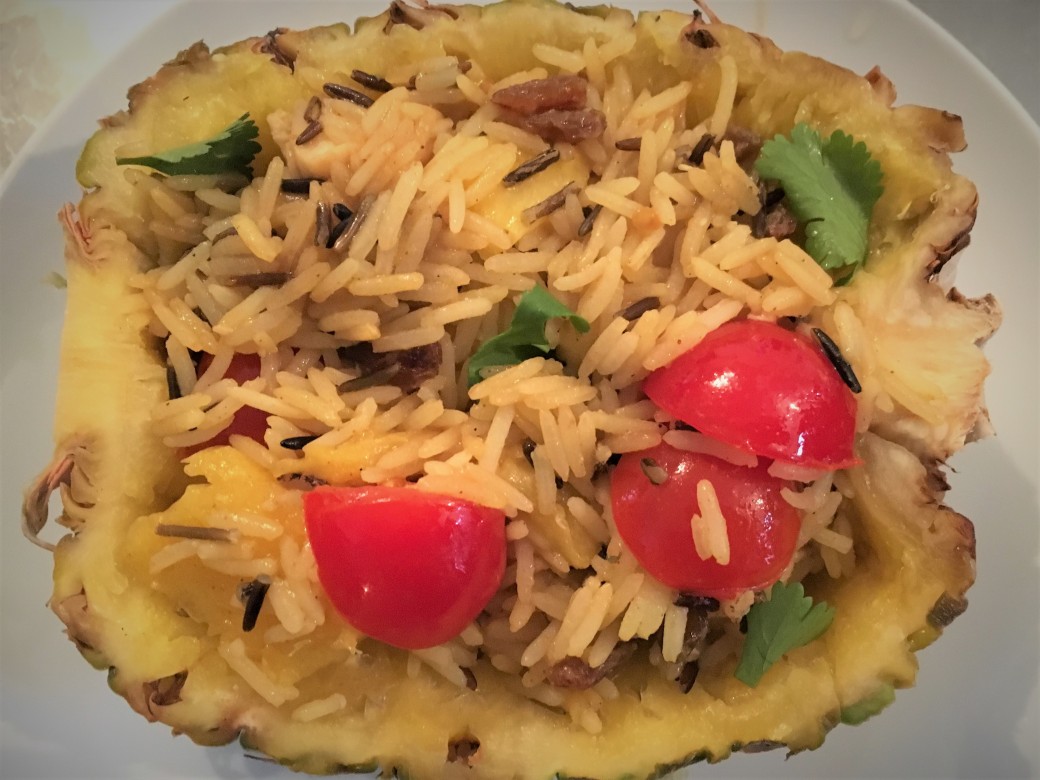 Free from:
Gluten, milk/lactose, nut, sesame, mustard, celery, meat, fish, crustaceans, molluscs, sulphites. VEGETARIAN
Alternatives:
Omit the soya sauce for a soya-free alternative
---
Ingredients
400g wild/white rice
1 large fresh pineapple (using half the flesh)
6 cherry tomotoes (quartered)
2 spring onions (coarsely chopped)
1 tbsp dairy-free spread (e.g. Vitalite)
½ tsp curry powder
2 tbsp gluten-free soya sauce (e.g. Kikkoman tamari gluten-free soya sauce)
25g raisins
1 tsp sugar
Small bunch of fresh coriander (chopped)
---
Method
1. Cook the rice as per the instructions on the packet
2. Meanwhile, chop the pineapple in half – length ways, and scoop out the flesh (I find it easiest to do that with a sharp knife). Chop up half of the flesh into bite-size pieces
3. Heat the dairy-free spread in a wok over a medium heat. Add the curry powder and mix fully
4. Add the rice. Stir-fry until fully coated and a slight yellowy colour
5. Add the pineapple, cherry tomatoes, spring onions and raisins. Stir-fry for a further 5 minutes – mixing well
6. Add the sugar, soya sauce and coriander. Stir-fry for a couple of minutes more and remove from the heat
7. Serve in the pineapple skin for a unique and impressive look, and decorate with coriander
Serving suggestion: Serve alone as a main meal with some fresh salad, or alternatively as a sweet side dish to a lovely Thai curry.
---
The Safer Eating Company cannot take responsibility for any recipes that are uploaded that are not accurate. We will check them as often as possible, but please refer to our problem food lists and ALWAYS CHECK THE LABELS of every ingredient.
---