Prawn cocktail (dairy and gluten free)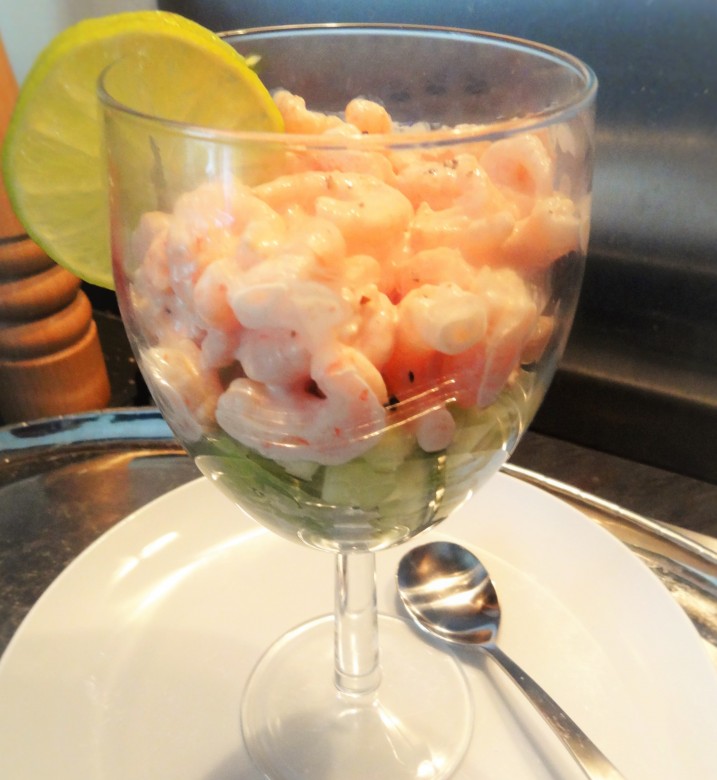 Free from:
gluten, milk/lactose, nuts, lupin, sesame, molluscs, fish, meat, mustard, sulphites, celery
Alternatives:
Omit the Worcestershire sauce for a soya-free version.
Cooking time:
No cooking required. Consider the time required to defrost the prawns if they are frozen.
---
Ingredients
200g frozen or fresh large prawns (shelled and cooked)
3 tbsp dairy-free mayonnaise (e.g. Hellman's Real)
1 tsp tomato puree
6 drops of gluten-free Worcestershire sauce (e.g. Biona)
Freshly ground black pepper to taste
2-4 leaves of lettuce (e.g. baby gem or iceberg)
1/4 cucumber (peeled and diced)
Optional: 2-4 drops of tabasco sauce
---
Method
1. Defrost the prawns in cold water if you need to. Drain and dry with kitchen roll once fully defrosted
2. Make the Marie Rose sauce by mixing the mayonnaise, tomato puree, Worcestershire sauce, pepper and tabasco sauce together in a bowl
3. Add the prawns and make sure they are fully coated in the sauce
4. Wash the lettuce in a lettuce spinner or in a sieve/colander. Dry with kitchen roll if you need to. Chop or tear roughly
5. Add a layer of lettuce and then a layer of cucumber in each dish/glass. Spoon the prawns on top
6. Add a little ground pepper on top
7. Add a slice of lemon, lime or tomato to decorate
Serving suggestion: Serve with gluten-free bread and dairy-free spread (crusts removed). Also some wedges of lemon.
---
The Safer Eating Company cannot take responsibility for any recipes uploaded that are not accurate. We will check them as often as possible, but please refer to our problem food lists and ALWAYS CHECK THE LABELS of every ingredient.
---