Roasted balsamic vegetables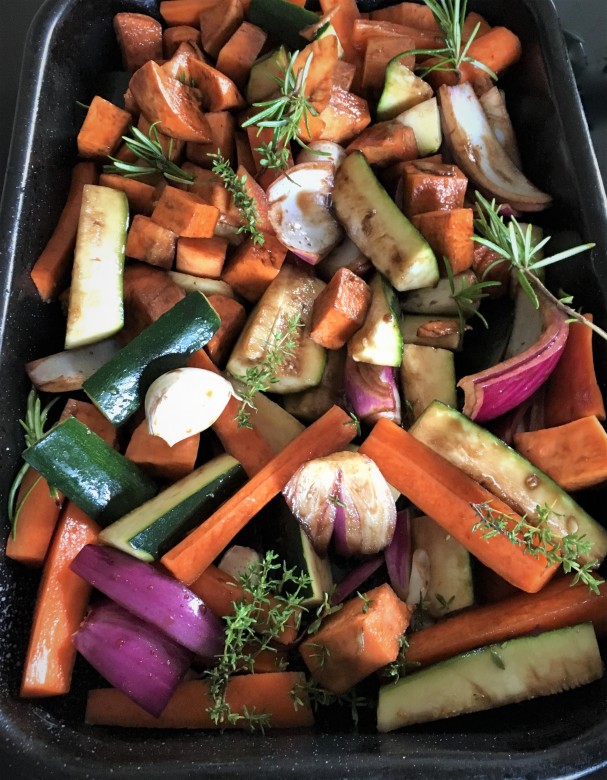 Free from:
Gluten, milk/lactose, sesame, mustard, celery, fish, crustaceans, molluscs, meat, egg, nut, lupin. VEGAN
Alternatives:
Use whatever vegetables you like - butternut squash, peppers, broccoli and cauliflower all work well
---
Ingredients
1-2 courgettes - cut into batons
2 carrots - peeled and cut into batons
1 medium sweet potato - peeled and cubed
1 red onion - peeled and quartered
8 cloves of garlic
Fresh thyme
Fresh rosemary
2 tbsp extra virgin olive oil
2 tbsp balsamic vinegar
Optional: salt to taste
---
Method
1. Preheat the oven to 200°C
2. Prepare the vegetables and herbs as described in the ingredients list
3. Put the vegetables and herbs into a large food bag. Leave the garlic unpeeled for roasting. Add the oil and vinegar. If you are not cooking the veg immediately, put it in the fridge until you are ready
4. Spray a large roasting tin with spray oil or lightly coat with oil
5. Tip the vegetables and herbs into the roasting tin and spread out evenly
6. Roast in the oven for 40-45 minutes until the vegetables are soft and slightly browned. Stir occasionally
7. Remove from the oven and squeeze the garlic out of the skin. The veg is now ready to serve
Serving suggestion: These roasted vegetables are delicious and so simple. The perfect accompaniment to any potato, rice or meat dish.
---
The Safer Eating Company cannot take responsibility for any recipes that are uploaded that are not accurate. We will check them as often as possible, but please refer to our problem food lists and ALWAYS CHECK THE LABELS of every ingredient.
---