Sushi rolls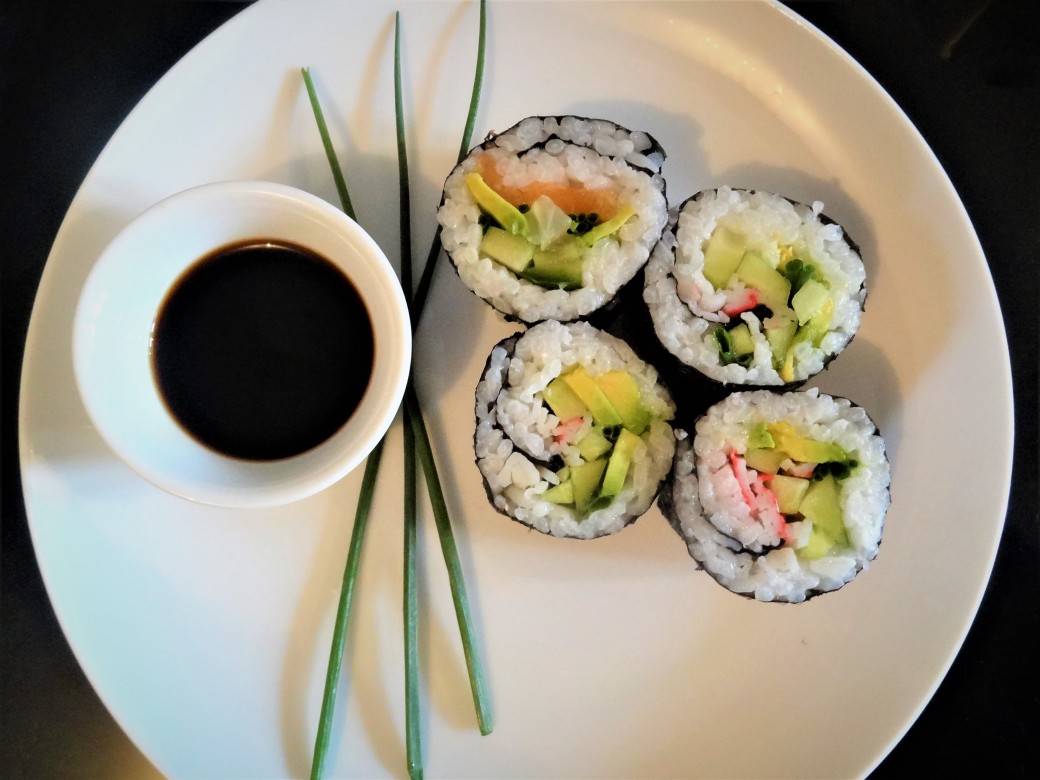 Free from:
Gluten, milk/lactose, nut, lupin, crustaceans, molluscs, celery, meat, sesame, sulphites
Contains:
Soya, fish, (egg if you use M & S seafood sticks, mustard if you use some wasabi pastes)
Alternatives:
For a veggie or vegan option - omit the fish and use more delicious avocado or alternative salad veg. Use an alternative to seafood sticks for an egg-free version and omit wasabi for mustard-free
Cooking time:
Approximately 20 minutes cooking and 30-60 minutes of resting
Serves:
3 as a starter, 1 as a full meal
---
Ingredients
SUSHI ROLLS
100g sushi rice
200ml water
2 tsp mirin
2 tsp caster sugar
25ml rice vinegar
2 sushi nori (seaweed sheets)
8 chives (shredded spring onion works just as well)
1/2 cucumber - peeled and cut into long, thin matchsticks
1/2 avocado - sliced thinly
2 large slices smoked salmon or 3 shredded seafood sticks (check for wheat - M&S's are gluten-free, but contain egg)
DIPPING SAUCE (per person)
1 tbsp gluten-free soya sauce (e.g. Kikkoman gluten free)
1/2 tbsp pickled ginger or grated fresh ginger
Optional: wasabi paste/sauce to taste (start with a pea-sized amount)
---
Method
 SUSHI ROLLS
1. Put sushi rice in a large bowl. Fill the bowl with water and drain with a sieve. Repeat until the water is clear, which takes about 4 rinses
2. Put the rice into a large saucepan. Add the mirin and water. Bring to the boil. Cover and simmer for 15 – 20 minutes (until the rice is cooked). Remove from the heat. Set aside for about 20 mins – keeping the lid on
3. Dissolve the sugar in the vinegar
4. Place the rice in a large bowl. Mix in the vinegar and sugar mixture. Cover the bowl with a damp tea towel. Leave to cool fully to room temp (or until ready to use)
5. Put the nori on a sushi mat. Place half the rice on the nori and spread around equally, leaving 2 opposite edges uncovered so it can be sealed easily. Use the back of a metal spoon to do this as the rice will be too sticky to use your hands
6. Place half the vegetables and fish down the middle equally. Roll as tightly as possible (this is a little tricky initially). Use a sharp knife to cut into 6-8 pieces. Serve or refrigerate
DIPPING SAUCE
1. Add the soya sauce to a dipping bowl (or more if you are dividing the sushi rolls between a few people)
2. Add the ginger
3. Add the wasabi if you are using it. Mix it in well
Serving suggestion: You have no choice - you must eat them with chopsticks. They make a perfect gluten and dairy-free lunch.
---
The Safer Eating Company cannot take responsibility for any recipes that are uploaded that are not accurate. We will check them as often as possible, but please refer to our problem food lists and ALWAYS CHECK THE LABELS of every ingredient.
---