Tasty beef burgers (gluten free)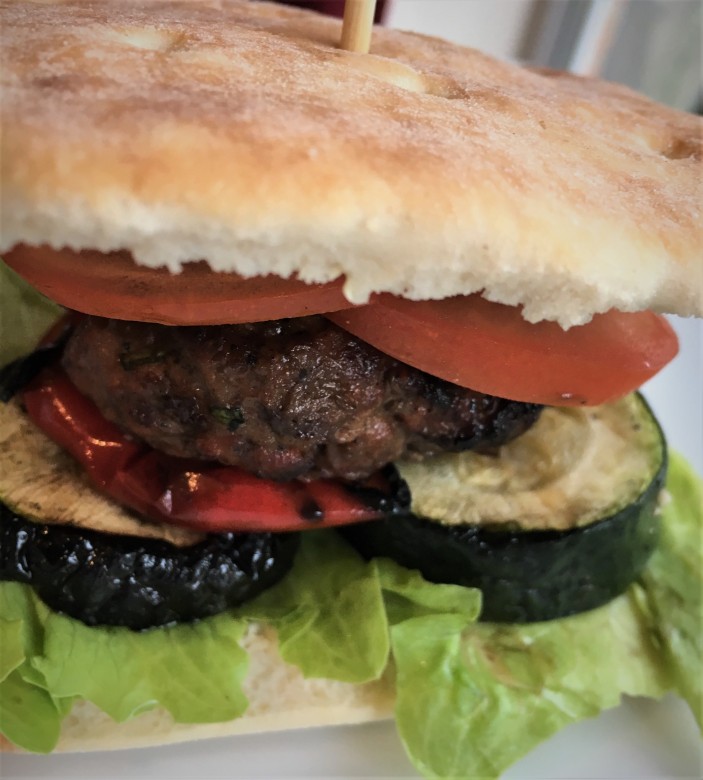 Free from:
Gluten, milk/lactose, nuts, sesame, celery, mustard, lupin, soya, sulphites, fish, crustaceans, molluscs
Alternatives:
Add jalapenos if you like your burgers spicy and use any veg or salad you want. Omit mayo and add a different sauce for an egg-free version
---
Ingredients
1 small onion (chopped finely)
500g beef mince
2 cloves of garlic (peeled and crushed)
1 tbsp tomato puree
1 tbsp of fresh oregano (chopped)
1 tbsp of fresh basil (chopped)
Salt and pepper to taste
Optional: olive oil
1 red pepper (chopped into about 8 pieces)
½ courgette (sliced)
6 free-from sandwich thins (gluten-free rolls work well too)
1-2 tbsp mayonnaise, check for milk and mustard
1-2 tbsp tomato ketchup, check for celery and gluten
6 small leaves of lettuce
¼ cucumber (thinly sliced)
1-2 tomatoes (thinly sliced)
---
Method
1. Prepare the veg and herbs
2. Heat a little oil/spray oil in a frying pan over a medium heat. Fry the onions and garlic until softened (approximately 5 mins)
3. Put the onion and garlic in a large mixing bowl. Add the beef mince, tomato puree and herbs. Season to taste
4. Mix all the ingredients together well (I find this easiest to do with my hands)
5. Mould the mixture into 6 burgers. Use a little oil if the burgers do not stick together well enough
6. Put the burgers in the fridge for at least 15 minutes (this seems to help them to stay together)
7. Put the pepper and courgette on a metal skewer. Alternatively you can roast them with a little spray oil for about 20 minutes
8. Grill or barbecue the burgers until slightly browned and cooked through (5-10 minutes each side). Cook the vegetable skewer too after a couple of minutes (3-4 minutes each side)
9. Build your burgers by layering the salad, vegetables and burger. Top with the mayo and ketchup. Lush! Hold the burgers together with skewers if you need to
Serving suggestion: Treat your family and friends by serving these beauties up at a barbecue.
---
The Safer Eating Company cannot take responsibility for any recipes that are uploaded that are not accurate. We will check them as often as possible, but please refer to our problem food lists and ALWAYS CHECK THE LABELS of every ingredient.
---