Thai chicken curry (free from)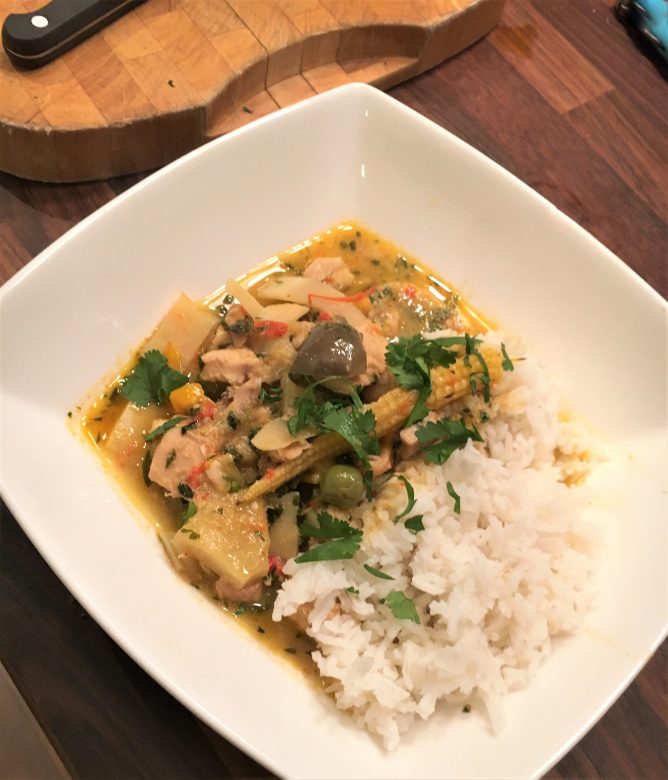 Free from:
Gluten, milk, nut, egg, lupin, molluscs, mustard, celery, sesame, soya
---
Ingredients
1/2 a block of creamed coconut
2 tbsp red curry paste (e.g. Mae Ploy)
1-2 tbsp oil
4 chicken breasts and 6 thighs (remove skin and chop into bite-sized pieces)
Pack of baby corn
2 tins of coconut milk
3 tbsp fish sauce
2 tbsp palm sugar
1 tin of bamboo shoots
1 red pepper (sliced)
1 courgette (chopped)
100g pea aubergines (destalked)
8 Thai aubergines (quartered)
10 cherry tomatoes
1 tin of pineapple chunks (drained)
1 lime
10 sweet basil leaves (finely chopped)
Handful of coriander (finely chopped)
10 kaffir lime leaves (finely chopped and stem removed)
---
Method
1. Pour the oil into a large saucepan over a medium heat
2. Put the creamed coconut in a jug. Add 2 tbsp boiling water and break up with a fork
3. Pour the coconut mixture to the pan. Heat through for approximately 2 minutes. Stirring continuously
4. Add the red curry paste. Stir well
5. Add the chicken to the pan. Cook through for 3 minutes. Stir occasionally
6. Add 2 cans of coconut milk (even if some of the chicken is still raw). Bring it to the boil, then reduce the heat to simmer
7. Add the fish sauce and palm sugar. Simmer for 5 mins
8. Add the bamboo shoots. Stir. Simmer for a further 10 minutes
9. Add the red pepper, baby corn, courgette, pea aubergines and Thai aubergines
10. Cook for a further 5 minutes, add a handful of whole cherry tomatoes and the pineapple
11. Squeeze in all the lime juice
12. Add the basil, most of the coriander (reserving a few sprigs to decorate) and the kaffir lime leaves
13. Cook for a further 10 minutes and serve
Serving suggestion: Serve with rice and some Thai crackers. Delicious!
---
The Safer Eating Company cannot take responsibility for any recipes that are uploaded that are not accurate. We will check them as often as possible, but please refer to our problem food lists and ALWAYS CHECK THE LABELS of every ingredient.

Huge thanks to Jim Sudlow for sharing the recipe with Safer Eating.
---