Thai crab cakes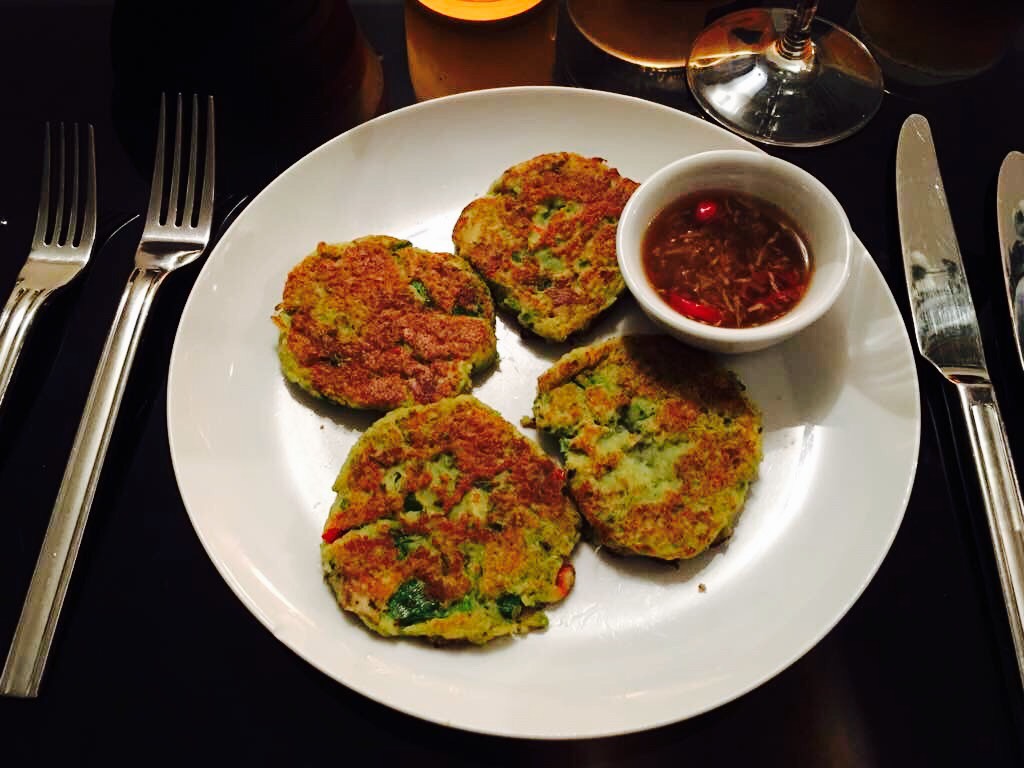 Free from:
Gluten, lactose/milk, nuts, sesame, soya, lupin, fish, molluscs, meat, mustard, celery
Contains:
Crustaceans (crab), egg, sulphites (if you use tinned crab only)
Alternatives:
Omit the garlic, use green/runner beans and use only the green parts of a spring onion for a low FODMAP option.
Serves:
2-3 (makes about 6 crab cakes)
---
Ingredients
170g white crab meat - tinned or fresh
Small handful of mangetout/green beans/runner beans - chopped roughly
2 large spring onions - sliced
1 slice gluten-free bread - broken up a little (e.g. Genius)
1 tbsp fresh ginger - grated
2 garlic cloves - crushed
1 tbsp fresh coriander - chopped (or 1/2 tsp ground coriander and 1/2 tsp dried coriander leaf)
1/3 - 1 red chilli - sliced (depending on how spicy you want them)
Zest of 1 lime
1 egg
4 tsp oil (e.g. sunflower or olive)
---
Method
1. Prepare all of the vegetables, herbs and spices
2. Put the bread in a blender/chopper. Chop until it becomes breadcrumbs
(If you don't have a suitable blender – break the bread into breadcrumbs yourself and chop the other ingredients as finely as possible, then mix together)
3. Add all the other items, except the oil
4. Chop until the whole mixture is fairly smooth (although it can be quite chunky as the hard ingredients have already been broken down in the preparation)
5. Heat 2 tsp of oil in a frying pan over a medium – high heat
6. Spoon about 1/6 of the mixture into the pan and make into a circular shape with the back of the spoon
7. Repeat this with another 2 tsps so you have 3 crab cakes cooking at once
8. Fry for about 2-4 minutes each side until they are cooked through and a nice golden brown on each side
9. Remove from the pan and keep warm whilst you cook the remaining 3 as above
10. Decorate with fresh coriander and serve with our amazing Vietnamese dipping sauce. It is so good – you won't want to ever use another sauce
Serving suggestion: This is the perfect starter for a Thai-style meal. Serve with a salad garnish and gluten-free prawn/Thai crackers.
---
The Safer Eating Company cannot take responsibility for any recipes that are uploaded that are not accurate. We will check them as often as possible, but please refer to our problem food lists and ALWAYS CHECK THE LABELS of every ingredient.
---