Manchester Vegan Cafe and Wellbeing Centre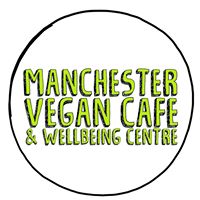 We serve healthy and economical vegan dishes to support those with eating disorders and disabilities. However, all are welcome.


'Absolutely loved it! Such a nice place and such lovely people! The food is great too and it's so nice to be able to choose from the whole menu as everything is vegan (and delicious)!'

Customer review.
---
Have you eaten here?
Please give us your views and help us to keep our standards high. It is helpful to mention the following:
Good/bad service
Awareness of cross-contamination
Standard of meal
Knowledge of staff
How you were made to feel
Free-from options available
WRITE REVIEW
---
Tweet
Information
Caters for:
Vegetarian
Vegan
Coeliac disease/wheat allergy/gluten free
Lactose/milk free
Nut allergy
Map:
Contact information:
Tel: 07534 365248
http://www.manchestervegancafe.co.uk
Address:
35 to 39 Oldham Street
Manchester
Greater Manchester

M1 1JG
---