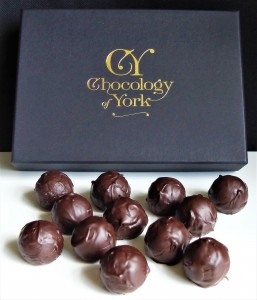 I felt like a kid on Christmas Day when I discovered the lovely Jon O'Connell (founder of Chocology in York) had sent me some dairy and gluten-free chocolate truffles to test. These sweet treats are also vegan. Bonus.
They looked almost too good to eat – beautifully packaged and labelled. But I managed in the end! Here are my thoughts…
Cuban Single Estate Truffles *****
These strong dark chocolate truffles blew me away. Expect a perfect thickness of hard chocolate on the outside wrapped around a bittery, vanillary gorgeousness. At room temperature (during a heatwave) the truffle inside was sensationally soft. Straight from the fridge, the filling was smooth and creamy, contrasting with the crisp outer chocolate shell. Definitely a winner.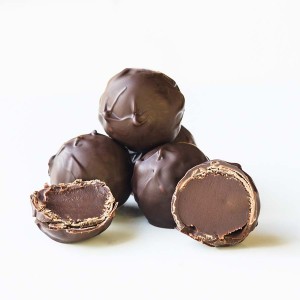 Masons Classic Gin Truffles  ****
Never before have I sampled a gin chocolate, let alone a truffle. And I'd pretty much ruled out tasting anything like it now I am gluten and dairy free. So cheers!
These truffles are such pretty little things. It takes a second or two but after the first little bite (I like to savour treats!) the gin hits your tastebuds. And it is literally Masons gin and tonic in a truffle. At warm room temperature the centre is almost gooey and, again, from the fridge it reveals a smooth, creamy filling.
These truffles definitely wake up your senses. I'm not sure it's possible to have too much gin, but I thought there was a tad too much so Jon is going to tone them down ever so slightly. I'd be a willing volunteer to try more… hee hee!

Overall, these truffles are fantastic. I'd be so pleased to get them as a present (strong hint to friends and family). There is none of that fake plastic taste that you get in a lot of dairy-free choccy and the quality even exceeds the majority of 'normal' chocolates I had before I was diagnosed with coeliac disease and dairy intolerance.
Sweet!
By Karen Woodford – lactose intolerant chocologyholic
Prices:
– £9 for a bag of 12 + £5 P & P
– £12 for a box of 12 + £5 P & P
Options available:
– Chocology are able to provide truffles/chocolate for weddings and parties
– Dairy-free chocolate lollies available at Christmas, Valentines and Halloween (up to 65cm high and 7kg). Easter eggs also available 
How to order:
– Via Facebook Chocology of York  
– Via Twitter @ChocologyofYork