Akbar's Curry House Leeds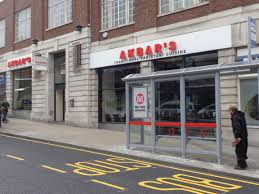 As someone who is allergic to Nuts, Egg, Dairy, Soy, Sesame Seeds and Shellfish you wont be surprised to hear that eating in a curry house is a rare event. However Akbars has changed that.

They took my needs completely seriously and even though the menu that I was allowed to choose from was greatly reduced, my curry was absolutley delicious and the staff took great care to ensure that I was well fed and happy throughout.

Thank you Akbar's, I shall be returning again and again and again.
---
Have you eaten here?
Please give us your views and help us to keep our standards high. It is helpful to mention the following:
Good/bad service
Awareness of cross-contamination
Standard of meal
Knowledge of staff
How you were made to feel
Free-from options available
WRITE REVIEW
---
Tweet
Information
Caters for:
Lactose/milk free
Nut allergy
Fish allergy
Seafood/snail allergy
Egg allergy
Map:
Contact information:
Tel: 0113 245 6566
http://www.akbars.co.uk/leeds-eastgate
Address:
15 Eastgate,

Leeds
United Kingdom
LS2 7LY
---
Do you own this fantastic venue?
To take control of this profile, change/add a photo and give us more information to tell our tricky eaters about your business - please register and we will hand over the power...