Courgette and rosemary soup (free from)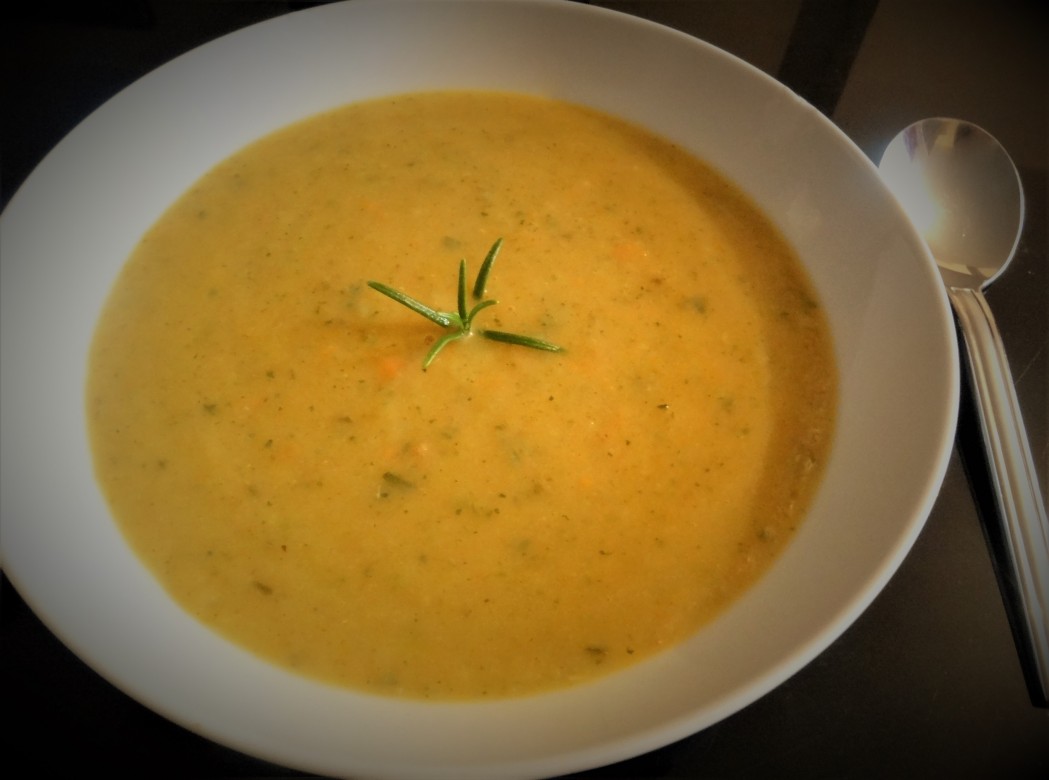 Free from:
Gluten, lactose/milk, nuts, lupin, mustard, sesame, soya, fish, crustaceans, molluscs, egg, meat, sulphites. VEGAN
Contains:
Celery (and coconut if you use coconut milk - although this is not classed as a 'nut' in the UK)
Alternatives:
Omit the celery and use homemade vegetable stock for a celery-free version
---
Ingredients
1 tsp dairy-free spread (e.g. Pure sunflower spread)
1 onion (chopped)
2 cloves of garlic (crushed)
1 large courgette (sliced)
3 slices of celery
1 carrot (sliced)
1 small potato (peeled and cubed)
2 sprigs of fresh rosemary (chop the leaves only)
300ml vegetable stock (e.g. Knorr)
50ml dairy-free milk (e.g. Koko - coconut milk)
Optional: salt and pepper to taste
---
Method
1. Prepare the vegetables and herbs
2. Melt the spread in a large saucepan over a low-medium heat
3. Stir fry the garlic and onion for 2-3 minutes
4. Add the carrot and potato. Stir. Cover and sweat over a low heat for 10 minutes
5. Add the courgette, rosemary, celery and stock. Stir
6. Simmer until all the vegetables are soft (approximately 15 minutes). Add the milk after 10 minutes
7. Blend until smooth. Season to taste. Decorate with fresh rosemary
Serving suggestion: I, for one can't resist dipping in some free-from bread. One of my new faves is Tesco's free from sourdough cob.
---
The Safer Eating Company cannot take responsibility for any recipes that are uploaded that are not accurate. We will check them as often as possible, but please refer to our problem food lists and ALWAYS CHECK THE LABELS of every ingredient.
---