Dairy-free mushroom omelette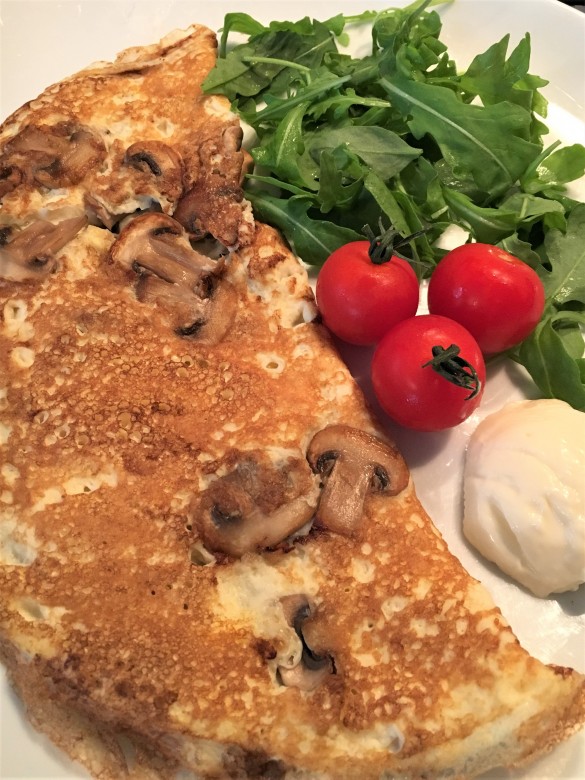 Free from:
Gluten, lactose/milk, soya, sesame, celery, nut, mustard, fish, crustaceans, molluscs, meat, sulphites, lupin. VEGETARIAN
---
Ingredients
2 eggs
1 tsp dairy-free milk (e.g. Koko coconut milk)
Salt and pepper to taste
5 baby button mushrooms - sliced
1 tsp dairy-free spread (e.g. Vitalite)
---
Method
1. Crack the eggs into a mug/bowl
2. Whisk the eggs and milk together with a fork
3. Add the seasoning
4. Heat the dairy-free spread in a frying pan over a medium-high setting until it has melted. Spread around the pan with a spatula if you need to
5. Add the mushrooms and stir-fry until cooked (2-5 minutes)
6. Pour the egg mixture into the pan. Tilt the pan in each direction so egg mix fills the bottom completely
7. Cook for approximately 2 minutes until the underneath is beginning to brown
8. Fold in half and serve. Cook a little longer if you do not like a loose middle. I like my omelettes well done as you can see in the picture
Serving suggestion: Serve with fresh salad and a big dollop of dairy-free mayonnaise.
---
The Safer Eating Company cannot take responsibility for any recipes that are uploaded that are not accurate. We will check them as often as possible, but please refer to our problem food lists and ALWAYS CHECK THE LABELS of every ingredient.
---