Lamb rogan josh (mild)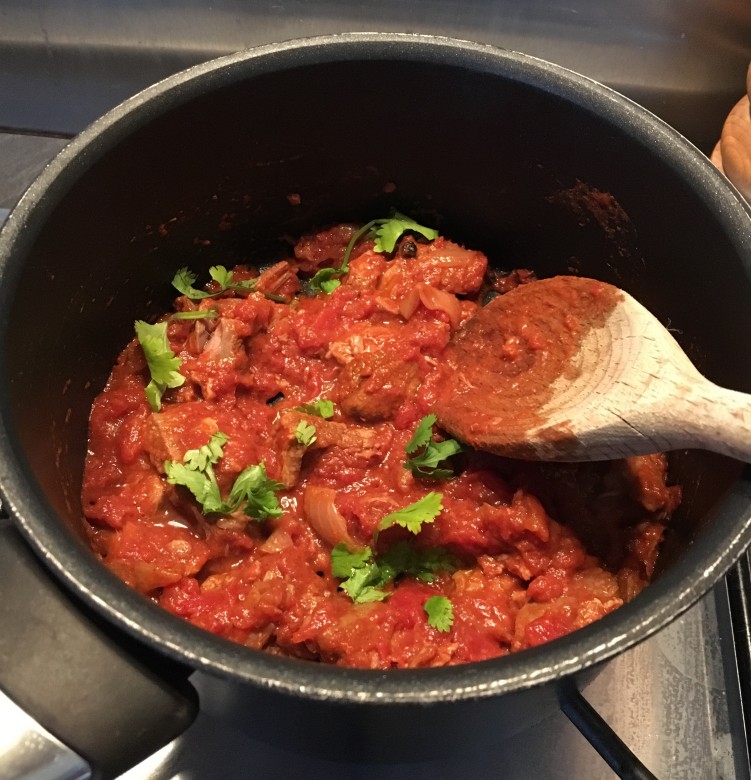 Free from:
Gluten, milk/lactose, nut, egg, soya, fish, mustard, crustaceans, molluscs, lupin, celery, sesame
Alternatives:
Chicken or beef are other meats that work well. This recipe could easily be done in a slow cooker
Cooking time:
Approximately 2hr 45 mins
---
Ingredients
3-4 tbsp oil (vegetable or olive work well)
900g lamb (e.g. lamb leg steaks) chopped into bite-sized pieces
8 cloves of garlic (peeled and chopped)
2 tbsp root ginger (peeled and chopped roughly)
100ml water
2 bay leaves
6 cloves
10 peppercorns
3 cardamon pods
2 small onions (peeled and quartered)
1 tsp ground coriander
1 tsp ground cumin
4 tsp paprika
1/2 tsp cayenne pepper (more if you like it spicy)
1 tsp cinnamon
1/2 tsp sea salt
1/8 tsp garam masala
3 large tomatoes (quartered)
1 tin (400g) plum tomatoes
Fresh coriander (for decoration)
---
Method
1. Blend together the ginger, garlic and 4 tbsp of the water until smooth
2. Heat 2 tbsp oil in a casserole dish over a medium-high heat
3. Preheat the oven to 170 C
4. Brown the lamb all over in 3-4 batches. Add more oil each time if required. If the lamb is sticking, turn the heat down or add more oil. Set aside once browned. This whole process takes about 15 minutes
5. Add the ginger and garlic mixture and onions to the casserole dish. Stir fry for a few minutes
6. Add the cardamom pods, bay leaves, cloves and peppercorns to the casserole dish. Stir-fry for approximately 5 minutes
6. Add the rest of the spices and salt. Stir fry until everything is mixed together
7. Add the meat. Stir well so the meat is thoroughly coated
8. Add the tomatoes and remaining water. Stir well ensuring that all of the brown bits from the bottom and sides are mixed in
9. Bring to the boil. Cover and transfer the dish to the oven. Cook for at least 2 hours. Stir and remove the lid for the last 15-20 minutes so the liquid thickens
10. Remove from the oven. Skim off the fat that has come to the top using a spoon. Stir well. Leave to stand for at least 10 minutes
11. When ready to serve, add a bunch of chopped, fresh coriander
Serving suggestion: Serve with rice, gluten-free naan bread, poppadums and salad. Add some lime pickle or free-from mint and yoghurt for a special treat.
---
The Safer Eating Company cannot take responsibility for any recipes that are uploaded that are not accurate. We will check them as often as possible, but please refer to our problem food lists and ALWAYS CHECK THE LABELS of every ingredient.
---