Spicy pumpkin and coconut soup (free from)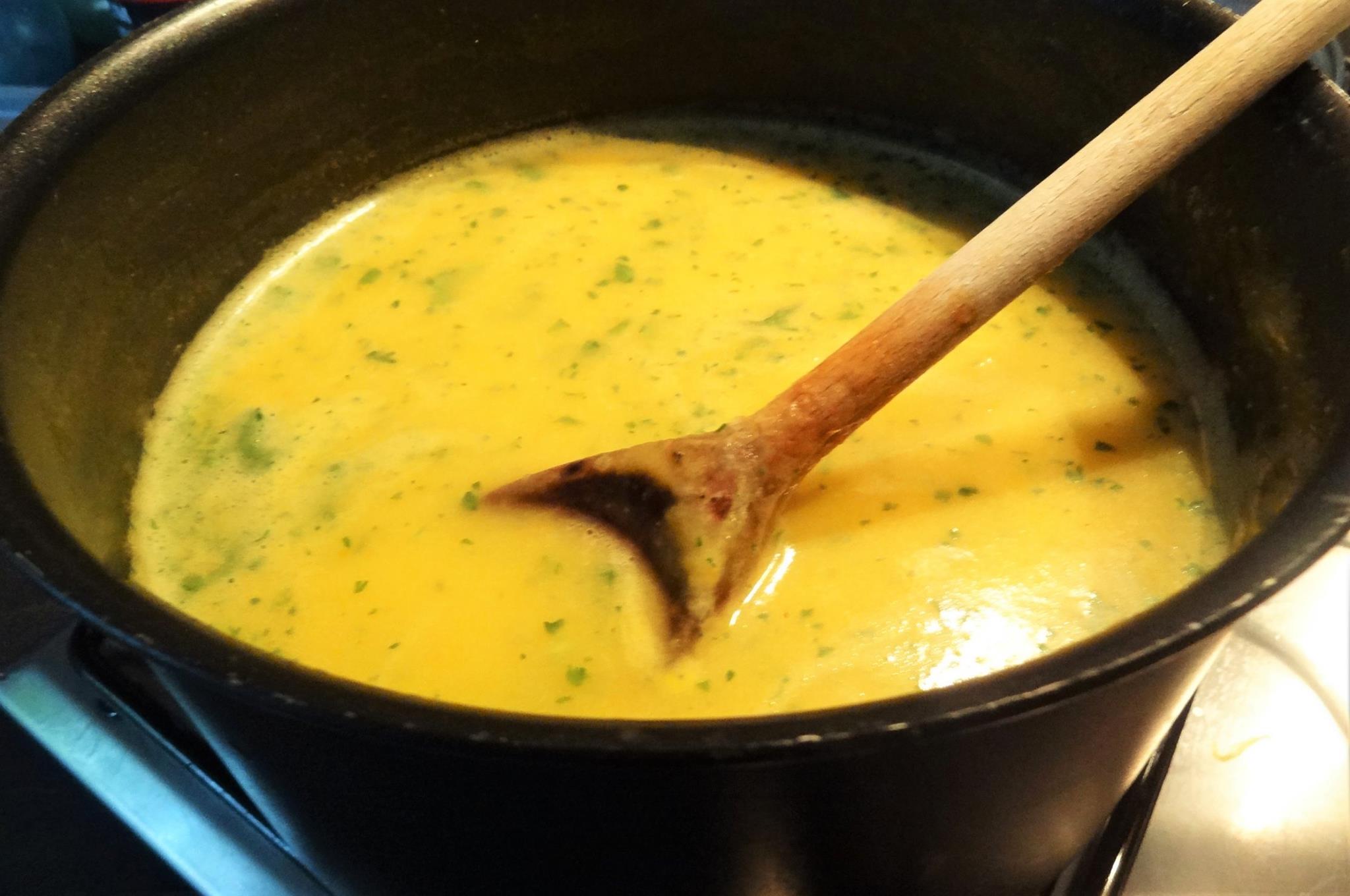 Free from:
meat (if use vegetable stock), milk/lactose, gluten, soya, lupin, sesame, nut, sulphites, mustard, celery (see below), egg, fish, molluscs, crustaceans
Contains:
check stock for celery, milk and gluten if not homemade. Coconut (which is not classed as nut in the UK)
---
Ingredients
1 pumpkin - flesh scraped out & chopped if necessary
1 bird eye chilli (sliced)
2 cloves of garlic (peeled and chopped)
1 onion (peeled and chopped)
1 tbsp chopped fresh ginger
1 carrot (peeled and sliced)
1 tbsp dairy-free spread (e.g. Vitalite)
300ml chicken/vegetable stock - check for milk, gluten and celery
Salt and pepper to taste
1 can of coconut milk
1 bunch of coriander (sliced)
---
Method
1. Prepare the vegetables and herbs
2. Melt the dairy-free spread in a large saucepan over a low-medium heat
3. Cook the onions, garlic and chilli until softened. Stir regularly
4. Add the carrots and pumpkin. Cover. Allow vegetables to sweat for approximately 10 minutes
5. Add the stock. Bring to the boil. Simmer for 15 minutes
6. Pour in the coconut milk. Stir well. Continue to simmer for a further 15 minutes
7. Add the coriander. Blend for a smooth, delicious soup
Serving suggestion: Serve with some warmed gluten-free bread and decorate with coriander leaves.
---
The Safer Eating Company cannot take responsibility for any recipes that are uploaded that are not accurate. We will check them as often as possible, but please refer to our problem food lists and ALWAYS CHECK THE LABELS of every ingredient.
---