Free-from brandy snaps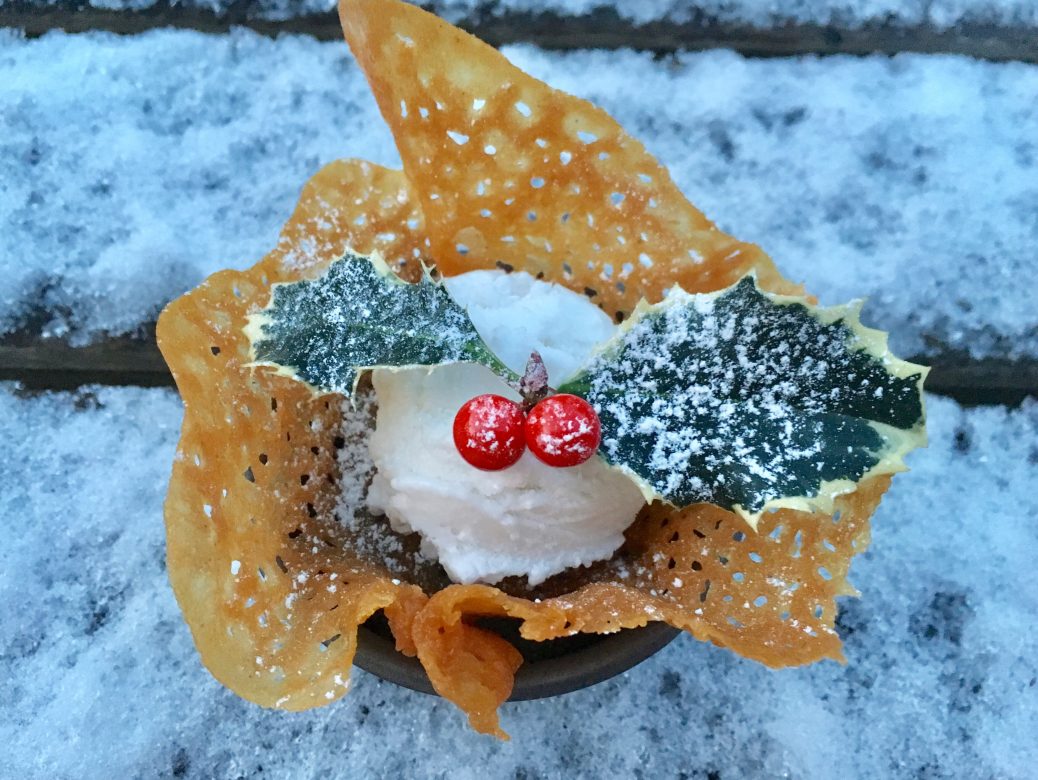 Free from:
milk/lactose, egg, gluten, nuts, sesame, mustard, lupin, sulphites, meat, fish, crustaceans, molluscs, celery
Contains:
soya (unless you use a soya-free cream/ice cream)
Alternatives:
Use a soya-free ice cream like Aldi's Free From Coconut Cream Iced Dessert or a soya-free cream
---
Ingredients
BRANDY SNAPS
50g dairy-free spread (e.g. Vitalite)
50g demerara/brown sugar
50g golden syrup
50g gluten-free plain flour (e.g. Dove's Farm)
½ tsp ground ginger
½ tsp lemon juice
1 tsp brandy - double check the brand for nuts
Oil/spread for greasing
FILLING
Free-from cream/ice cream, e.g. soya cream (e.g. Alpro) or dairy-free iced dessert (e.g. Swedish Glace)
---
Method
BRANDY SNAPS
1.Preheat the oven to 180°C
2. Grease and line 3-4 baking tray
3. Heat the spread, sugar and syrup in a small pan over a low heat
4. Melt the ingredients and stir until dissolved and completely smooth (make sure the mixture does not boil)
5. Once melted, leave to cool for 2-3 minutes
6. Sift in the flour and ginger. Stir well. Use a whisk if it is not completely smooth
7. Add the lemon and brandy. Stir well
8. Make 2-3 circles on each baking tray with 4tsp of mixture. They need to be 10cm apart from each other (they spread a lot)
9. Bake for 8-10 mins. It is easier to bake one tray at a time as it is quite fiddly when they come out of the oven
10. Grease the handle of a wooden spoon (if making tubes), or the bottom of 2-3 small tumblers/yoghurt pot bases (for baskets)
11. Remove the brandy snaps from the oven when they are a lovely golden brown colour and bubbling. Leave for 3-4 minutes until most of the bubbles have popped and the brandy snaps are firm
12. Use a palette knife or metal spatula to lift one brandy snap from the tray. For baskets (much easier); place the centre of the brandy snap on the base of the tumbler/yoghurt pot and shape slightly around the base. Leave it to cool in that position, then swap to the baking rack. For tubes; start to roll the brandy snap around the handle of a wooden spoon, then use your fingers to create the right sized tube, press the join to make sure it sticks together and then place it on a baking rack
FILLING
Pipe or squirt free-from cream into the brandy snaps or put a scoop of dairy-free ice cream into the baskets
Serving suggestion: Decorate with holly or frozen berries and sprinkle with icing sugar to give the perfect Christmassy look
---
The Safer Eating Company cannot take responsibility for any recipes that are uploaded that are not accurate. We will check them as often as possible, but please refer to our problem food lists and ALWAYS CHECK THE LABELS of every ingredient.
---