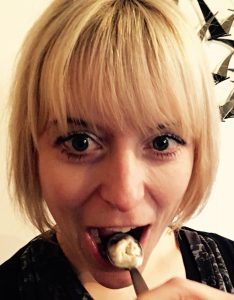 Pudding on a brave face for the FFFA 2018
I landed a dream job last week. I was asked to judge the FreeFrom Food Awards and even better – I landed the puddings and desserts category.
The FreeFrom Food Awards have been around for 10 years and the yellow awards logo is sought after by both large brands and new and small businesses. It lets tricky eaters know the product is quality. Products are judged based on factors, such as taste, texture, cost, nutritional value, labelling and uniqueness.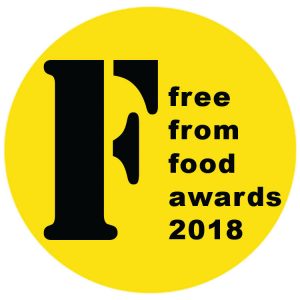 I was very honoured to receive an email from Michelle from FoodsMatter who runs the awards, alongside Cressida, inviting me to be a judge. I was thrilled to be involved and over the moon with my category. The judging happens over a two-week period in London (23rd January – 1st February) and there are now 21 separate categories and two special awards. It's a big deal in the free-from world.
The only other judging session I could have been involved in was ready meals and, I mean, desserts and puddings win hands down, right? We had a little deliberation about whether I would be able to do the dessert category because in the past, milk was in a lot of products. I am such an extreme tricky eater, with having coeliac disease and lactose intolerance and I am also low So, with no barley, rye, wheat or oats (I react to gf oats too), no milk, cream, yoghurt or butter and limited fructose, it is no mean feat to make a dessert suitable for me. Unbelievably though, we thought I could have 24 out of 25 of them, so on the train I jumped.
The weather held up as it always does – torrential rain and wind in Leeds and also in London. So, armed with my extremely pink umbrella (not usually my choice but it was in the sale and looked sturdy), I made my way down to London to the FoodsMatter headquarters. I chose to walk up the steps at Belsize Park station rather than get the lift (I think there were 207 from memory) to attempt to burn off additional calories prior to my indulgent feast.
My appearance was immaculate when I arrived… I looked like a drowned rat that had been pulled through a hedge backwards. But it was lovely to get there and be offered a choice of five dairy-free milks for my tea. Now that is a rarity.
I knew whatever I judged would cause some minor problems, stomach wise. I have a ridiculously sensitive gut! However, I was willing to eat more fructose than I knew I could take for the greater good. Take one for the team, as it were. I was judging on a panel of seven – there were other people in the free-from market as well as four tricky eaters. Mrs Crimble's were also judging as they were sponsoring this category – don't you just love their macaroons and cakes?
The lovely Cressida prepared all the products exactly as instructed on the packets and we got down to the important stuff – the tasting. One pud never arrived, and then it turned out I could not have another four of the products (two of them contained milk and two had oats). I forgot to tell Michelle I was one of the few coeliacs who cannot even eat gf oats. We had steamed puddings, coffee desserts, ice creams, gateau and chocolate desserts. I had to sit out a particularly good-looking gateau (groan!) and also one of my faves – millionaire's shortbread. But it was soooo exciting to try two different types of chocolate eclairs. Did you read that? Gluten and dairy-free chocolate eclairs. I thought both of them were amazing and it is the first time I have had anything similar in about six years. To me, one of them tasted like the real thing. What a treat. Being a tricky eater is not going to be an awesome way of keeping my weight under control I am quickly realising, but how good is it that we can eat a lot of the same things as everyone else again?
As I said, I knew it would definitely take a toll on my stomach. I imagine eating that many desserts would on people with normal digestive systems. I definitely felt rather bloated and nauseous by the time I left, as did at least two other judges. There is usually fructose in most free-from desserts, and there was in most of the ones we were judging – apple, fructose, fructose syrup and agave syrup from memory. I only had tiny bits of the ones that had the main offenders in, but for someone who does not eat desserts much, it was definitely a shock to the system. Albeit a delicious one.
But fret not about me and my crazy tummy. My nausea was pretty much sorted with my usual remedy of walking a lot and a Coke Zero. I also got a plain Leon takeaway at the station to dilute all the desserts. Perfect. And I bought some earrings very, very last minute so I reckon the adrenaline and excitement added to the healing too.
But I did have to take a headphone out to check the vibrations were the train and not my belly (it was a very closely packed train).  I fear it might have been a mixture of the train and me gurgling. I was also making some very strange noises when I had my other hat on the following day and was interviewing health professionals at the hospital. Poor them. I nearly made myself laugh out loud.
It was all definitely worth it though and I would do it again in a heartbeat. I cannot wait for the winners to be announced on 17th April. Watch this space everyone. We are hoping to get down to the awards ceremony so we will keep you up to date.
In the meantime, I would love to find out what your favourite free-from desserts and puddings are?