Avocado chocolate torte (gluten free and vegan)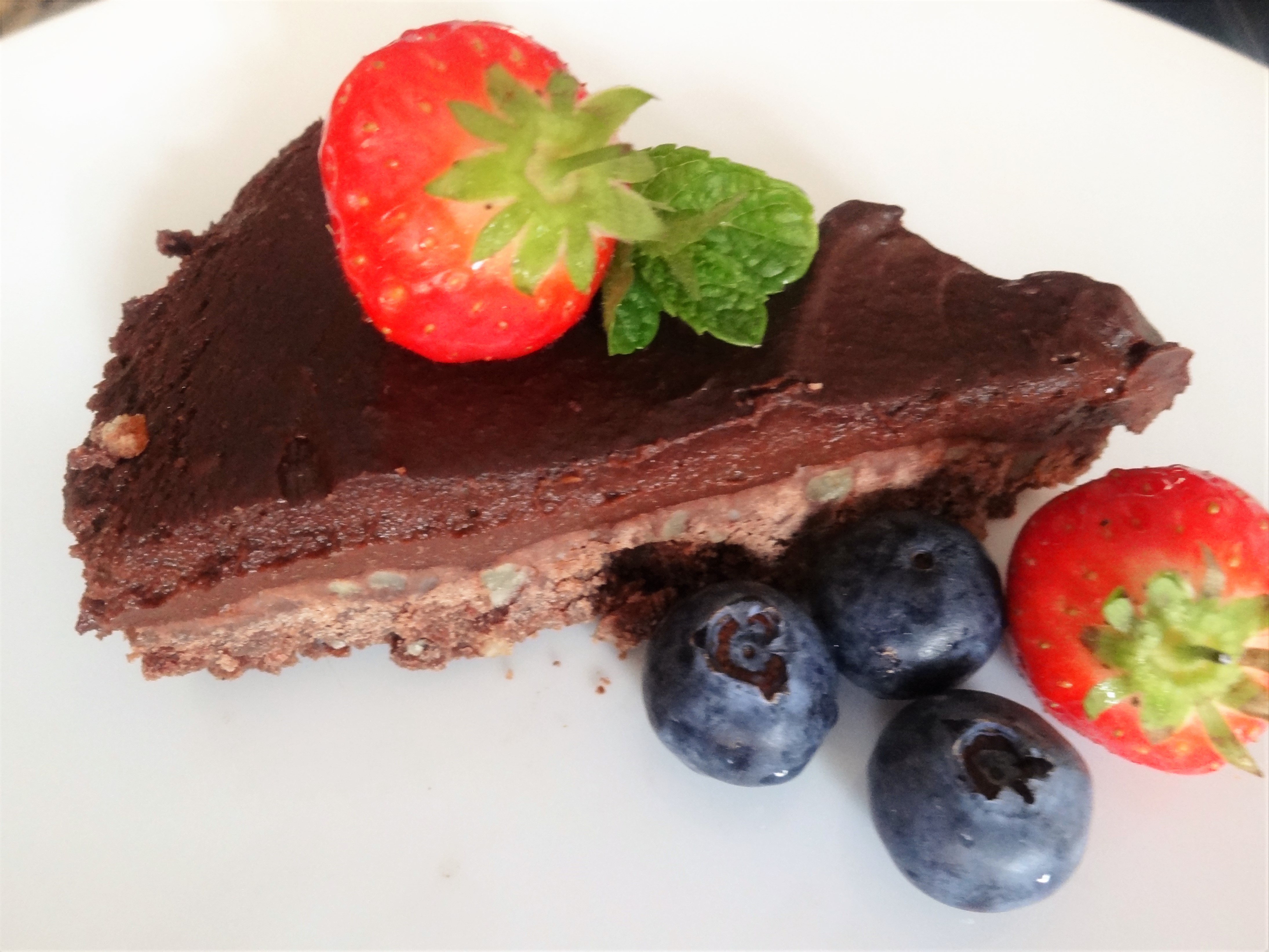 Free from:
egg, milk/lactose, gluten, lupin, sesame, soya, meat, fish, crustaceans, molluscs, sulphites, mustard, celery. VEGAN. NO REFINED SUGAR
Alternatives:
if you prefer a very bitter taste - omit the banana. A nut-free alternative is coming soon...
---
Ingredients
BASE
50g pecans
25g cocoa
100g rice flour
3 tbsp maple syrup
50ml water
2 tbsp coconut oil
FILLING
2 avocados (best when they are just starting to ripen)
1 banana (best if ripe)
100ml rice milk
50g cocoa powder
4 tbsp maple syrup
2 tsp vanilla essence
15g coconut oil
DECORATION
Fruit - berries work well
---
Method
BASE
1. Pre-heat the oven to 175°C
2. Break the pecans down into crumbs and small pieces – either in a chopper or alternatively by bashing them with a rolling pin/kitchen mallet in a bag
3. Add the flour, cocoa, nuts and maple syrup to a large mixing bowl
4. Melt the coconut oil for 15-20 seconds in the microwave
5. Add the oil to the mixing bowl. Stir the mixture together well
6. Add the water. Stir until fully combined
7. Grease a 23cm spring-base round cake tin with melted coconut oil
8. Put the mixture into the tin. Press it down into the tin with your hands or the back of a spoon
9. Bake in the oven for 10-15 minutes until it has a spongy feel
10. Allow to cool. Put it in the freezer for a little while to ensure it is chilled completely
FILLING
1. Whilst the base is in the freezer – peel the avocados and remove the stones. Chop roughly
2. Peel the banana. Chop roughly
3. Put the fruit and all the other ingredients into a blender. Blend until totally smooth
4. Spoon the mixture on top of the base
5. Refrigerate for at least 2 hours. It tastes really good if left overnight
DECORATION
1. Add your favourite berries for decoration (raspberries, strawberries or blueberries work well)
Serving suggestion: A touch of cream is lovely with this - be it soya, oat, lactose-free or normal.
---
The Safer Eating Company cannot take responsibility for any recipes that are uploaded that are not accurate. We will check them as often as possible, but please refer to our problem food lists and ALWAYS CHECK THE LABELS of every ingredient.
---