Iced lemon dessert (gluten and lactose free)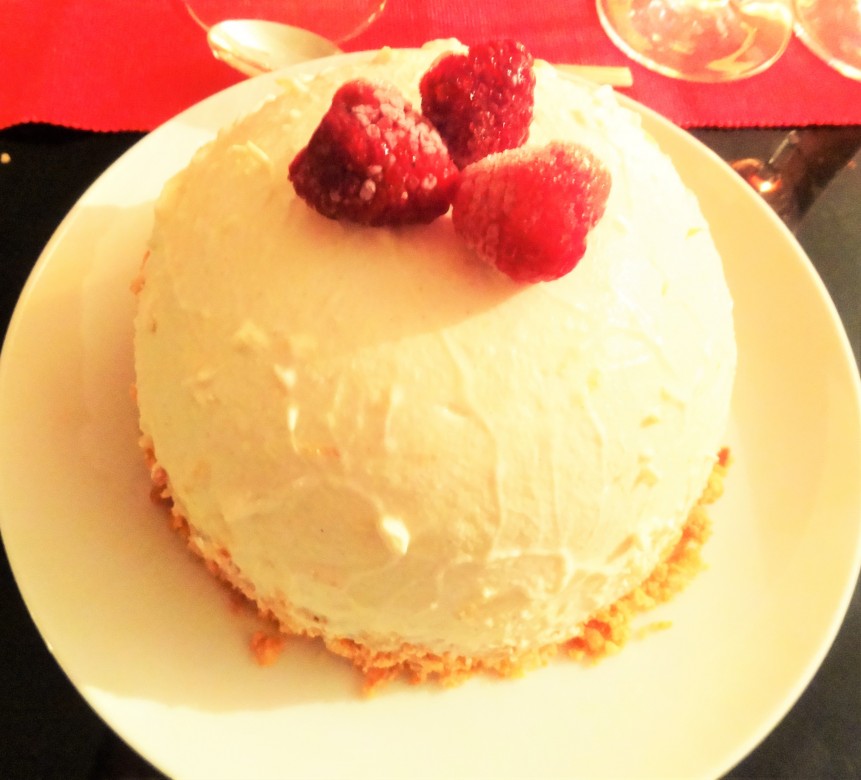 Free from:
lactose, egg, gluten, nuts, sesame, mustard, lupin, sulphites, meat, fish, crustaceans, molluscs, celery
Alternatives:
Try using soya soft cheese and soya cream for a dairy-free version
Cooking time:
No cooking. Need to freeze overnight
---
Ingredients
FILLING
2 lemons (zest of 2 and juice of 1)
400g lactose-free soft cheese (e.g. Lactofree)
100g icing sugar
150ml lactose-free cream (e.g. Lactofree)
¼ tsp cinnamon
BISCUIT BASE
150g gluten-free biscuits (e.g. free-from rich tea/digestive - check for milk and nuts)
70g lactose/dairy-free spread (e.g. Vitalite)
DECORATION
Mint leaves & berries to decorate
---
Method
BISCUIT BASE
1. Crush the biscuits into fine crumbs, either by putting them in a food bag and crushing with a rolling pin or with a food processor
2. Melt the butter/spread in a saucepan over a low heat. Add the biscuit crumbs and stir well. Allow to cool
FILLING
1. Put the soft cheese, cinnamon and icing sugar in a large mixing bowl. Grate the lemon zest into the bowl. Add the lemon juice (ensuring there are no pips). Stir gently together until fully mixed
2. In another bowl – whisk the cream with an electric whisk until it is making peaks (these will not be as firm as normal cream)
3. Fold the cream into the soft cheese mixture
4. Pour the mixture into a 1 litre freezable bowl
FINAL TOUCHES
1. Allow biscuit mixture to cool completely. Then spoon it on top of the filling in the bowl. Press down with the back of a spoon firmly to make a smooth base. Cover over with clingfilm. Freeze (at least overnight)
SERVING
1. Remove from the freezer 15 minutes prior to serving. Dip in hot water for a few seconds. Slide a palette knife down and around the sides. Tip out onto a plate
2. Decorate with mint leaves and berries. Serve immediately by cutting into slices
Serving suggestion: If you are feeling very naughty, pour on even more Lactofree cream.
---
The Safer Eating Company cannot take responsibility for any recipes that are uploaded that are not accurate. We will check them as often as possible, but please refer to our problem food lists and ALWAYS CHECK THE LABELS of every ingredient.
---