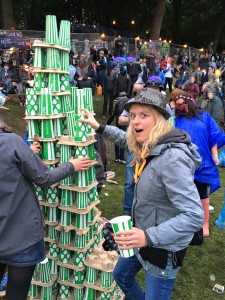 Now we've landed in autumn with a bit of a bump, I am feeling rather gloomy. I don't usually mind as I love autumn, but I'm particularly down because the festival season has finished and I've had a bleedin' great summer. There is nothing better than sitting in a field listening to music. Of course, you can always find cider too! Perfection.
We managed 3 festivals this year – Glastonbudget, Fake Festival and Bingley Music Live. We had a fab time at all of them. My 2 year old has now done two three-day camping festivals. She is a mini-festival queen. 
Myself and the kids have coeliac disease, so I took all our food to the festivals as I always do. I also have lactose intolerance which makes things even more tricky. I've managed to work out the exact amount we need to take now though (although my husband may disagree with this, being the chief stuff-carrier) and also found things to take that were exciting for the final day, so we didn't feel like we were missing out too much.
My top favourite festival foods are M & S's 'Made without wheat' Scotch eggs, snacking crackling and mini cocktail sausages. Very healthy I know, but all I survived on at festivals pre-coeliac were sausage rolls, 'normal' Scotch eggs and cheese strings (probably topped with a few burgers, fried chicken, chips and a giant Yorkshire pudding). So, I reckon the first day of the gf festival diet is probably slightly better than that.
For snacks, Tyrrells crisps are always a must, also fruit snacks, little tomatoes and chopped cucumber – just to add a tiny bit of goodness. Tortilla chips and houmous/salsa also work well.
We usually make a meal of something the night before, like free-from pasta/pizza, and eat it cold the next day. Another good meal is falafal/spicy cooked chicken in gluten-free wraps with salad, salsa and houmous. For the final day, I take frozen BBQ food, so it's thawed, but not gone off, like Tesco lamb and mint kebabs. Perfect! Stick them on the disposable BBQ on the last day and you're sorted. The kids have something different for each meal too which keeps them happy.
Of course, bacon is a must when waking up a tad hungover (what can I say? Glastonbudget even does speciality ciders). It cooks really quickly on disposable BBQs and you will make everyone else on the campsite very jealous.
We discovered that sometimes the Mr Whippy ice cream is safe for my mini-coeliacs (if they keep the nozzle away from the cones) and alternatively, there is nearly always a Calippo to hand. With that and bubbles – the kids were no problem.
Anyway, for now, I'm putting my trilbies (I have rather a collection) to bed to hibernate for a few months. And here's to concentrating on collecting conkers and working out what new crazy outfit I'm going to wear for Halloween.
By Karen Woodford – a coeliac begrudgingly saying hello to autumn