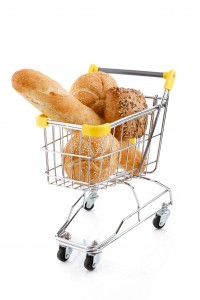 I never in a million years thought my stomach and bowel problems were down to food. I actually figured alcohol was the culprit.
I then got pregnant and breast-fed my baby – hmmmmm, alcohol was no longer in the equation but the symptoms were getting worse and worse.
Although I'd been pushing for a tTG test, I still didn't think I had coeliac disease. Then the doctor told me to go in for my results. And it's not like they ask you to come in for negative results, right?
Sure enough, the doctor booked me in for an endoscopy, to confirm what the test suggested. I actually think I then went through a bit of a grieving process. "Arghhhhhhhh! What am I going to do if I can't eat gluten? There's no point in eating!"

I went to the supermarket and – in a crazed state – grabbed everything I thought I would never be able to eat again. Sausage rolls, Scotch eggs, biscuits, Double Deckers, crackers, crisps, pies, cake, fresh bread, cereal bars…
Everywhere I looked there was gluten. I couldn't get it all in my trolley. On the way to the checkout I even got hold of a chicken and mushroom Pot Noodle. I hadn't eaten a Pot Noodle in 10 years!
I continued the gluten binge with takeaways – I ordered pizza, fried chicken and a doner kebab all at once. I stopped at Kentucky Fried Chicken on a short drive on the motorway and then went to a dodgy-looking Burger King for my last ever Whopper fix. Goodbye, old friends!
My last meal before my endoscopy was fish and chips. By this stage, I was feeling absolutely awful and knew it had to be coeliac disease. And my GP confirmed it shortly afterwards.
I cut out gluten immediately and, to be honest, I was ready by that point. The grieving process was pretty much over.
Once I had got my head round what I could have and how to manage my new lifestyle, I started looking at it in a much more positive light.
I now get excited when I find a new product I can have and have learned to cook loads of different things that I might not have tackled before.
The gluten and dairy-free market is growing rapidly – it seems there are things coming out every time I go shopping. I even saw gluten-free puff pastry in the freezer on my last trip to Tesco's. Yee-haa! Who knows, maybe gluten-free Pot Noodles will be next?
Karen Woodford
Managing Director of The Safer Eating Company
Coeliac disease, lactose intolerance and fructose intolerance (IBS)