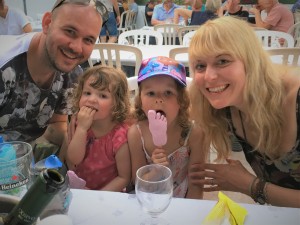 Now that summer is a distant memory, I have managed to spend a little time reflecting on our trips away. My eldest daughter started school last year, so it is the first summer holidays we have endured. I have quickly realised that every summer is going to involve non-stop driving… pick-ups, drop-offs, holidaying, visiting friends and family. Good fun, but we have been totally frazzled for the last month or so.
Here are the best bits about our trip to Spain (we're the lucky people that have grandparents over there so get to visit quite often)…
Firstly, Ryanair now have allergy symbols on their menus. It meant I could get olives, a chocolate bar and fries that were all dairy and gluten-free. Definitely better than nowt which is usually the case.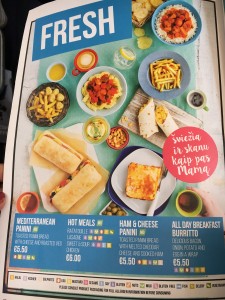 The Jamaica Inn in Denia had all of the drinks on their allergy checklist too. Businesses often forget that drinks can contain milk, eggs and gluten for example. When I pull the Bloody Mary card out with restaurants/pubs, they are usually surprised that they contain fish and gluten due to the Worcestershire sauce in the recipe.
Lungo Mare in Javea (a beautiful Italian restaurant that never fails to disappoint) have massively upped their game by marking all the allergens on their menus. Orders for free-from meals now need to be taken by the manager. They are more than happy to cook chips in fresh oil, and they no longer put bread on top (which sometimes used to catch them out). Hooray! I had gf pasta with chilli, garlic and oil, and a Mediterranean salad with smoked salmon and quail eggs. Another night I had a fantastic pork skewer, check out the pic.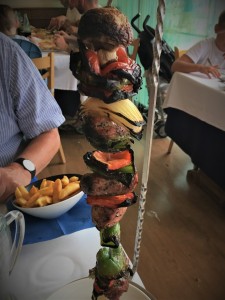 How can you not go back for a second time when it is so good!? I felt like everyone else for a change – totally enjoying a fab meal out. The oils on the table were gorgeous too- especially the chilli one.
Tutto Frutto in Denia is still the best ice-cream shop in the world (according to me). There are about 7 types of ice cream I can have and the serving-staff are very clued up. I thought I was going to miss out on one this year, but got it in on the last night. The kids ate all of my coconut one though, so I will have to remember to order a GIGANTIC one next time.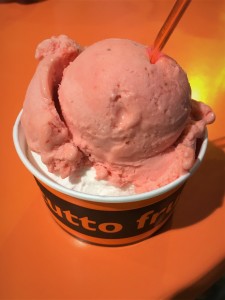 There was a frozen yoghurt place in Javea called Smooy, it had a massive 'sin gluten' sign in the middle of all of the pumps which was great. The kids were over the moon. There was a little cross-contamination of some toppings so we had to be careful with those, but the waitress was well aware. Everything was clearly marked, but as far as I could see there were no dairy-free options (which is what you expect in a yoghurt or ice cream shop to be fair).
WHSmith at Alicante Airport now has an area selling Schar's gluten-free products. Very well done, because there is little alternative food we can get at the airport so it is a little life-saver. Our plane always seems to be delayed on the way home so I always take free-from snacks to feed the thousands (with 2 mini-coeliacs in tow).
We found a new pizzeria place with a playground (Restaurante Pizzeria Piscina de Orba). My Mum had done a little research before we arrived and found out that they offered gf pizzas and pasta. These were both prepared prior to them getting all the 'normal' flour out for making the fresh pizzas. I just couldn't resist steak and chips though as it's quite rare we can have chips too (they are usually cooked in the same oil as batter/breadcrumbs). They were amazing until the wasps started literally chomping their way through it. Who knew they were carnivores?
All the ice cream menus now have 'sin gluten' marked on them so even my 5-year-old mini-coeliac can select her own dessert and order it.
To top any of the food, I didn't find 'milk' in any of the white wines (this is unfortunately quite common now, especially with Sauvignon Blanc from New Zealand) and most places out there sell Strongbow now. Perfecto (sad I know)!
Well done Spain. Gracias. Tell you what, I think we'll visit again….
By Karen Woodford – a coeliac mother of 2 gluten-free girls, loving the free-from changes in Spain