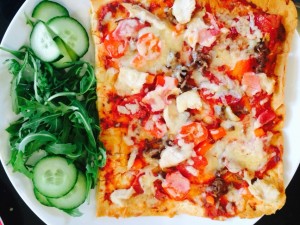 Gone are the days where cooking dinner was the last thing on my mind when I arrived home. Or when I woke thinking of what easy, greasy food I could order to cure my hangover.
I must confess that there were rather a few occasions where I was too tired to even think about anything other than ringing a takeaway. And many a night where a greasy pizza or kebab was ordered, possibly with chips, chicken nuggets or garlic bread.
Of course, it got far easier when Just Eat arrived and you didn't even have to pick up the phone or have any cash on you. Somehow that took away some of the guilt.
Everything came through our door – pizzas, kebabs, curries, mixed grills, prawn toast, sweet and sour chicken balls… the list is endless. It wasn't unheard of to order a combination of several of the above when hungover either.
Now though, as I have coeliac disease and lactose intolerance and am strictly gluten and lactose free – takeaways are a bit of a distant memory. My little girls are also gluten free and that means we can never just order whatever we want from a takeaway and at the most the options are limited to just 1 or 2 things on the menu.
I am thanking my lucky stars that I have found a fab gluten-free fish and chip shop close by (Frydays) that actually delivers. I also thought I had found an Indian, however I felt ill after the last time we had a takeaway from them. Other than that Sukhothai are fab for us to go and collect an outstanding Thai meal. Things are definitely improving too with Nando's now doing takeaway and companies like Deliveroo starting up who deliver food from various restaurants in the area (I have not yet sampled them, but it sounds great).
There is also the positive that it is obviously much healthier with takeaway options being limited. I can now make fantastic gluten and lactose-free pizza, homemade donner or chicken kebabs, great Indian and Thai curries and I have found prawn crackers and poppadoms that are safe. Yeay! You definitely feel a lot better when you are eating everything made from scratch or homemade. For a start there is probably 1/100th of the amount of salt, no MSG and much less sugar and fat. Winner winner chicken dinner (well… chicken kebab).
By Karen Woodford – an ex-takeaway regular with coeliac disease, lactose intolerance and following a low FODMAP diet to top it off