Number 1
Kinnerton Just Chocolate Dark Chocolate Egg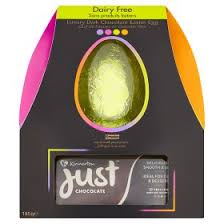 This is my favourite Easter egg by far and is free-from dairy, egg, wheat, gluten, peanuts and tree nuts. It is also vegan-friendly. I was never a fan of dark chocolate before I found out I had coeliac disease and lactose intolerance, but this chocolate has a creamier taste than most 'safe' dark chocolate. The only problem is, it is pretty tricky to get hold of. I haven't managed to get one this year, but they are still available at Morrisons – quick, run!
Price: £5 from Morrisons
Number 2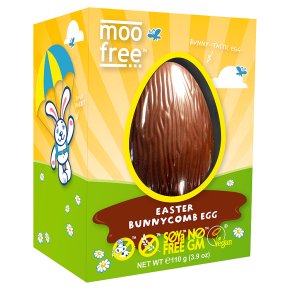 Moo Free have this honeycomb one and also do an original chocolate egg and an orange-flavoured one. I really like the flavoured Moo Free chocolate, and for me it is one of the best dairy-free chocolates. These are fab little eggs, a great size for younger children. They are not badly priced either and pretty easy to get hold of.
Price: £4 from Waitrose
Number 3
Cocoa Libre honeycomb Easter egg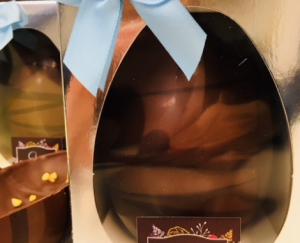 The honeycomb chocolate from Cocoa Libre is lush, really smooth and creamy. I was amazed by the taste the first time I tried it and if I see it now, I always make sure I stock up. It is free-from peanuts, nuts, wheat and egg, and is also suitable for vegans and coeliacs. The only allergen it contains is soya. It sounds like these are selling fast too – so get a wriggle on if you want one.
Price: £6.95 from Cocoa Libre directly
Number 4
Tesco Free From chocolate egg with coins/buttons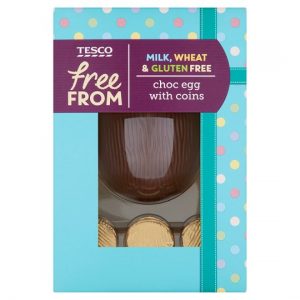 These Easter eggs (and other supermarkets' own eggs) are the easiest to find and definitely the kindest on the wallet. They usually sell white chocolate ones too at most stores and a choice of coins or buttons. I personally think both the white and brown chocolate have a slightly funny aftertaste, but the texture is really good and for the price they are great value. These eggs are free-from milk, wheat and gluten. Please note that they contain soya and inulin (an ingredient that some people on a low FODMAP diet cannot tolerate).
Price: £3 from Tesco
Number 5
Booja Booja champagne truffles Easter egg
I just love Booja Booja truffles. They are pretty rich, but yummy! These organic eggs are very pricey though and stock usually runs out everywhere pretty quick. They are soya, dairy and gluten free, and also suitable for vegans. They do look absolutely beautiful and shout quality, so I'd definitely be happy if someone surprised me with one.
Price: £9.95 for a small egg, £25.95 for large egg