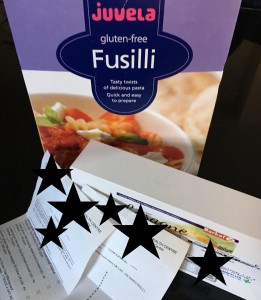 On the 31st March, the Department of Health opened a consultation on the NHS prescribing of gluten-free foods. The public can give their views by completing a survey found at this link. The consultation closes on the 22nd June 2017. Safer Eating fears that the public has been mis-sold facts in the government's push to make drastic cuts across the NHS.
Negative press in the past, such as The Daily Mail in August 2015 quoting that, "The NHS is handing out tens of thousands of prescriptions every year for custard creams, doughnuts and pizzas" shows people may not have the full picture. Although the story was talking about all special diets – it focused on coeliac disease and talked about how the NHS needs to focus on, "essential patient care, operations and crucial drugs". It is infuriating when gluten-free prescriptions are portrayed this way. Most GP surgeries have only allowed staple ingredients for years, such as flour, bread and pasta. There is now an apology to people with coeliac disease on the bottom of the article.
I think it is really important that the public understands the other side of the story so they can form their own educated opinion and comment on the consultation.
I was diagnosed with coeliac disease in 2012, and now there are three coeliacs in my family. My five-year-old daughter Megan was diagnosed at two years old and I was told it is very likely that Amalie, who is two, has it – she had tests at six months old but needs to have more. A dietitian once said to me that the gluten-free diet is our medicine. If the diet is not followed completely, it can lead to lots of symptoms, which can be as serious as lymphoma, infertility, osteoporosis and cancer.
When I was diagnosed with coeliac disease, it was a steep learning curve working out what I could and couldn't eat and how to prevent the high risk of cross-contamination of gluten. I fully support the views raised by Coeliac UK, the British Dietetic Association and consultant gastroenterologist Dr Puntis with regards to the gluten-free prescriptions. I have detailed them further below.
My two little girls also have to follow strict gluten-free diets, and it really is incredibly expensive and puts real pressure on our family budget. Being able to get basics on prescriptions has been a lifesaver. If that is taken away, well, it is like we are being punished for having a condition. A small loaf of bread can cost £3 from a supermarket – someone without coeliac disease could pick up the equivalent for 60p. This is not some diet fad we are following – without gluten-free-food we would be very sick and at greater risk of cancer and osteoporosis. I work for the NHS so the last thing I want to do is rip it off.
We are in a lucky position in that we can still afford to buy food if they stop the prescriptions, but we will definitely feel the impact as a family. My weekly shopping bills have already rocketed by 50% since my daughters were diagnosed, after picking up other gluten-free food, such as breakfast cereal and pizza bases, and without the prescription food we face extra costs of £100 per month.
Obviously we have to go without a lot already (which is hard when you are watching your kids go through that) but without the help from the NHS, it is going to be even worse. I am not on benefits, but have to pay very high childcare costs, which nearly equate to my monthly pay. My youngest child is at nursery and to try to make her food similar to her little friends so she does not feel quite as excluded, I provide the nursery with things like cereal, cakes, biscuits, fish fingers, sausages, Yorkshire puddings, gravy, bread and pasta. I also have to provide before and after school club with cereal and snacks for my eldest child. This adds to the cost further.
There has been mention of a voucher scheme in Leeds. I welcome any new innovations that would reduce the cost to the NHS but would still support people with the high cost of living with coeliac disease. If something like that was introduced, then the cost of prescriptions to only the low-income groups and the vulnerable would be much reduced.
Another concern for me is that the public think we get these prescriptions for free. A lot of adults, including me, have to pay for their prescriptions. Things are improving and I have noticed products are slowly appearing in Aldi, but so far only crisps and snack-like foods – and I sense this may have just been in preparation for this week's coeliac disease awareness week.
I have significant concerns about what the public will think if they are not fully educated about this consultation and don't understand exactly what it means. Coeliac disease is a serious auto-immune disease with no cure except to follow a strict gluten-free diet. One argument is that people with coeliac disease can just eat things that are naturally gluten free, but try telling that to a two-year-old who is watching what all their friends eat and has to have the same pudding and breakfast of fruit nearly all the time.
And as Dr Puntis points out – it is not healthy for children or adults to survive on rice as a replacement to bread as it lacks the nutrients that bread and other gluten-free foods contain.
Supporting information
Coeliac UK
Coeliac UK is flying the flag for those of us with coeliac disease. It fully supports gluten-free prescriptions to reduce the high costs of gluten-free products and because research has proven the strict gluten-free diet is better followed when a prescription is given. It has been in liaison with Clinical Commissioning Groups (CCGs) up and down the country with regards to stopping gluten-free prescriptions for years. For further information, see this link (including an excellent briefing paper).
Coeliac UK reports:
Gluten-free products remains of high cost (usually 3-4 times more expensive than the gluten-containing counterparts). Even a supermarket's own gluten-free bread is 3-4 times more expensive gram for gram than gluten-containing bread
Low income is a major issue if the prescriptions are stopped as a large proportion of people with coeliac disease will not be able to afford gluten-free products
Limited mobility is another major factor – if the prescriptions are discontinued for people that collect them from their local pharmacy or even get them delivered, what will they do?
Concerns with the reasoning behind CCGs pulling funding for prescriptions and that they think it has been done without thorough research (conflicting with another study from 2015)
Savings that are made from prescriptions may be spent instead on the symptoms of untreated coeliac disease
There is already inequality across the country due to a postcode lottery of entitlement to gluten-free prescriptions. 20% of local CCGs have already stopped gluten-free prescriptions.
British Medical Journal
The British Medical Journal (BMJ) recently published an article which resulted in a published head to head with Coeliac UK, a lecturer, gastroenterologist and GP. See this link for their specific arguments. Dr Puntis (paediatric gastroenterology consultant) also had his supportive views published in a letter to the British Medical Journal (BMJ) which is copied at the end of this blog.
British Dietetic Association (BDA)
The BDA (see this link) is also fully supportive of the gluten-free prescriptions. They advise it will impact on vulnerable patients the most and quote the National Institute of Clinical Excellence (NICE) including the following points:
Gluten-free products are more expensive
Gluten-free products are usually only sold at large supermarkets
Access to gluten-free products is difficult for people on low income or with limited mobility
It can be a financial burden when more than one family member has coeliac disease
It, too, comments on the long-term consequences of people not following a gluten-free diet and lists depression, infertility, anaemia, osteoporosis and cancer as significant symptoms. It states, "It is counterproductive to try to save a relatively small amount of money from prescriptions only to see a significant increase in the financial burden from serious long-term complications of the disease." It has suggested that there may be alternative models such as pharmacy-led voucher schemes.
Have your say
You can comment whether you have coeliac disease or not. It is really important that everyone has their say:
With regards to Leeds stopping gluten-free prescriptions (you can comment even if you are not from Leeds). Comments need to be in by 31st May 2017
Coeliac information https://www.coeliac.org.uk/about-us/news/leeds-north-south-and-east-and-west-ccgs-launch-review-of-gf/
Dr Puntis (consultant in paediatric gastroenterology) had this letter published in the BMJ…
Julie Wood's words ("This is not about cutting essential services or restricting access for patients to services they need—it is about allowing local clinical leaders to make the best and most efficient use of the money . .") (1) won't cut much ice with coeliac patients, but fits nicely with the current philosophy of getting local teams to make the cuts in services while government absolves itself of any responsibility for the chaos caused by NHS underfunding. Distractions such as 'low value prescriptions', along with charges to overseas patients also draw attention away from the massive waste associated with running the NHS as a market, profligate use of management consultants, cost of PFI, etc. It is estimated that 1 in 100 of the population have coeliac disease, although many are undiagnosed. Not adhering to strict gluten free diet presdisposes to long term complications such as growth failure in children, osteoporosis, anaemia, micronutrient deficiencies, infertility and lymphoma. A key aspect of management therefore is promoting strict adherence to a gluten free diet. This is not as easy as it sounds, and the withdrawal of gluten free prescriptions will act as a barrier to achieving this goal in some patients (and add further costs to the NHS down the line). Following a recent 'head to head' in the BMJ (2) a mother of a child with coeliac disease clearly outlined some of the difficulties including the high cost of gluten free food in supermarkets, and the inclusion of gluten as a bulking agent in cheaper brands of some foods such as baked beans (3). The arguments against prescribing related to the bureaucratic process, and the relatively high cost of prescription gluten free products, neither of which should represent insoluble problems to the NHS.
Coeliac UK (https://www.coeliac.org.uk) has pointed out that Simon Stevens has misrepresented the situation with regard to gluten free prescriptions (whether through ignorance or mendacity is unclear). Suggesting that patients could shop for gluten free food in Lidl is disingenuous when this outlet does not routinely stock such products. Furthermore, budget and convenience stores, which are relied upon by the most vulnerable such as the elderly, and those on low incomes, have virtually no provision. He also misleadingly implied that significant sums are spent by the NHS on biscuits and cakes, while guidance (supported by Coeliac UK) for many years has rejected such spend. His argument that 'the price of gluten free alternatives has come down substantially' is not backed up by the evidence. Industry data since 2008 shows that gluten free bread costs about six times as much as its gluten containing equivalents and this has not reduced. Abandoning gluten free bread by switching to rice and potatoes poses the risk of nutritional deficiencies. Hippocrates is credited with the injunction: "Let food be thy medicine and medicine be thy food." We should continue to treat those with coeliac disease on the NHS, and stop blaming patients for the problems of a cash starved service.
References
1. Iacobucci G. NHS will publish list of "low value" drugs to curb GP's prescribing costs. BMJ 2017;356:j1613 doi: 10.1136/bmj.j1613
2. Kurien M, Sleet S, Sanders D, Cave D. BMJ 2017;356:i6810 doi: 10.1136/bmj.i6810
3. Gleed G. Commentary: we're under financial strain without prescriptions for gluten free food. BMJ 2017;356:j119 doi: 10.1136/bmj.j119